It has been 12 years since the General Plan for Newport Beach was comprehensively revised. On January 8, 2019, the City Council conducted a study session to consider initiating a review and update of the General Plan.
Announcements

Check it out!

Upcoming Listen & Learn Workshops

Wednesday, November 20, 2019, 6 p.m. at the Newport Coast Community Center (6401 San Joaquin Hills Road)
Thursday, November 21, 2019, 6 p.m. at the OASIS Senior Center (801 Narcissus Avenue)

Upcoming General Plan Update Steering Committee Meeting

Wednesday, December 4, 2019, at 6 p.m. in the City Council Chambers (100 Civic Center Drive)
During the study session, the City Council directed the initiation of the process and asked that a General Plan Update Steering Committee be created. At the January 22, 2019 City Council meeting, the initiation and formation of a steering committee was approved.
Resources
Presentations
Complete General Plan (warning: large PDF file). Click on image below: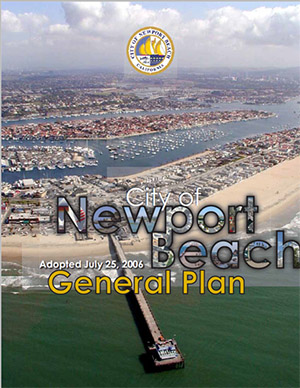 Contacts
For questions about the General Plan Update, please contact the project team at gpupdate@newportbeachca.gov.