It has been 12 years since the General Plan for Newport Beach was comprehensively revised. On January 8, 2019, the City Council conducted a study session to consider initiating a review and update of the General Plan.
Announcements

The Newport Beach 6th Cycle Housing Element is Certified!

Click

here

to view the letter.

Now Available: Final Adopted and Certified Housing Element (September 13, 2022)

Now Available: Revised Circulation Element Update (August 16, 2022)
During the study session, the City Council directed the initiation of the process and asked that a General Plan Update Steering Committee be created. At the January 22, 2019 City Council meeting, the initiation and formation of a steering committee was approved.
Resources
Presentations
For additional presentations and recordings of past workshops, please visit www.NewportTogether.com!
Complete General Plan (warning: large PDF file). Click on image below: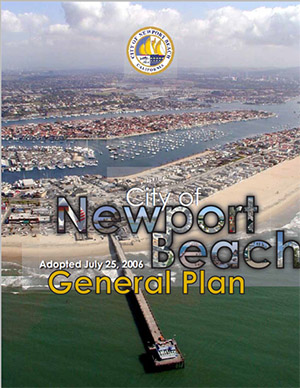 Contacts
For questions about the General Plan Update, please contact the project team at gpupdate@newportbeachca.gov.