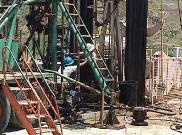 The City owns and operates 16 oil wells that were drilled between 1953 and 1958. Fourteen are in operations today, with one used for water injection to increase productivity from other wells, and one completely out of service. The well heads are located on two sites in unincorporated County territory along West Coast Highway. The wells are slant drilled under property within the City, into the area under the ocean which is called the Newport Offshore Oil Field.
Oil Production has declined since the 1980s (when the City acquired the wells) from approximately 60,000 barrels per year to 30,000 barrels per year in 2009 and to 20,000 barrels in 2020. Oil revenue generated is influenced by the price volatility of the oil commodity market. Oil prices have ranged from a low of $9.05 in 1999 to a high of over $100 per barrel in 2008. In recent years, the City has been averaging approximately $1.0 to $1.2 million in oil and gas revenue a year with operation and maintenance expenditures of approximately $600 to $800 thousand a year.
Oil and gas revenue is deposited into the Tidelands Fund because the source of the oil is in the tidelands area which the City holds in trust for the people of California. The Tidelands Fund may be used only for eligible expenditures that support and maintain the tidelands, such as improvements to tidelands property including dredging Lower Newport Bay, lifeguards, beach cleaning, etc.
For questions regarding the Oil and Gas operations please contact us at:
Utilities Main Office 949-644-3011
Utilities Director, Mark Vukojevic 949-644-3011