Advanced Water Metering Infrastructure Project (AMI)
Update:
The installation of collectors and repeaters for the Proof of Performance phase is complete, and Keystone Utility Services is in the process of installing 250 AMI meters with completion by August 2nd.
Overview
The City's Advanced Metering Infrastructure Project is a big step toward a more modernized water metering system that will help us all as a community better manage our water resources. The project will include exchanging your current water meters for new meters with Advanced Metering Infrastructure (AMI). AMI uses a low-powered communication device that is added to your new water meter to transmit water usage information over a secure network. The First Phase or the Proof of Performance (POP) Phase of the AMI Project is anticipated to begin in May 2019. This POP Phase will include the installation of 250 AMI meters spread throughout the City. Once the product has been proven effective during the POP phase, the City will then complete the Project with Phase 2, or Full Implementation of AMI with City Council's approval.
On January 22, 2019, the City Council formally approved the POP phase of the AMI project. The staff report and City Council Project presentation are provided here for your reference. The City's Advanced Metering Infrastructure Project is an approved FY18-19 Capital Improvement Project, No. 19W12.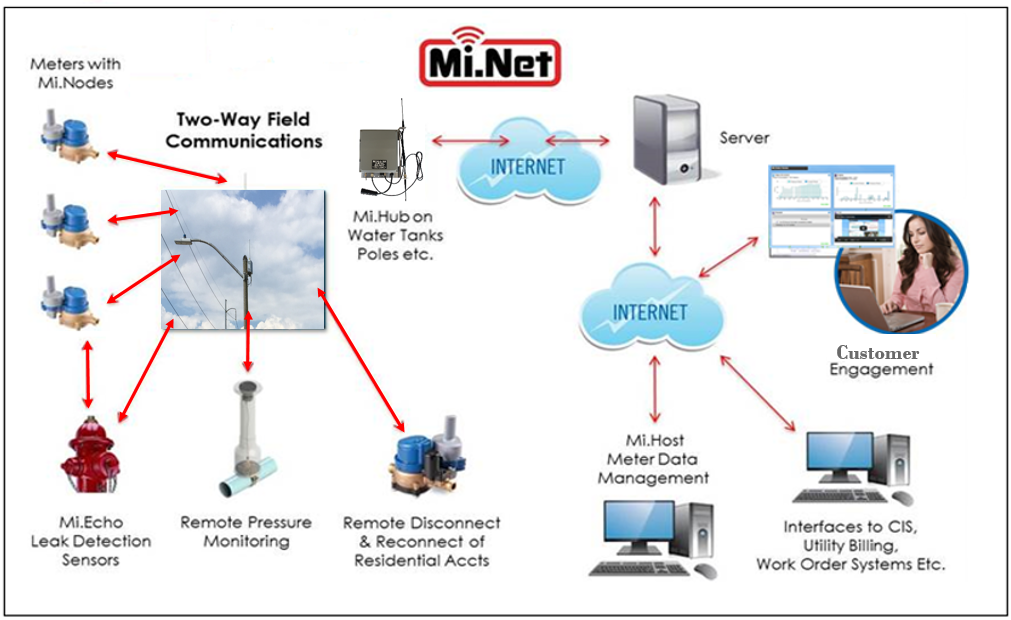 *Benefits of the Water Meter Upgrade Project
Access to your water usage information. After your new AMI meter is installed, you have the option to register for the City's online water use portal to access your water usage on a near real-time basis.
Reduction of water loss. Water leaks on the homeowner's side of the water meter can be identified and repaired more quickly by the homeowner.
Save money. Knowing your near real-time consumption history enables you to better understand and manage your water use and associated water bill.
Water Alerts. Set-up leak and other usage alerts so that they are automatically sent to you when continuous water flow is identified, which is often indicative of a water leak. This can save money and prevent property damage that often results when leaks run undetected.
*These benefits will not be offered to the customer during the POP phase of the project. Access to water usage information will be available after full implementation of AMI project.
Installation Process Overview
From May to October 2019, the City of Newport Beach will implement the Proof of Performance (POP) Phase of the Advanced Metering Infrastructure (AMI) Project by upgrading 250 meters and setting up four collectors and five repeaters throughout the City. These new smart meters, working with the collectors and repeaters, will utilize advanced two-way communication technology to transmit consumption and meter operations information that will improve consumption accuracy and service responsiveness to Newport Beach water customers. By sending and receiving information through safe and secure radio frequencies, the City may provide near real-time information to customers on their account, rather than through the current process of manually reading each meter once every two months.

Fig. 1 AMI POP meter

Fig. 2 Collector - A device used by Mueller's AMI system to provide long range wireless communications from the water meters (Mi.Nodes) to the City's software platform for the customer's access. (see Mi.Hub-Collector PDF for more information about Collectors).
Fig. 3 Repeater - A device used by Mueller's AMI system that serves as a network bridge, collecting data retrieved from each water meter (Mi.Node) within its range and forwarding the data to an upstream Collector or to other Repeaters. (see Mi.Repeater PDF for more information about Repeaters).
The City has selected Mueller Systems, Inc., an advanced metering industry leader (manufactured in North Carolina), as the provider of all meters and related metering network equipment.
During the POP Phase, 250 meters will be replaced by the installation of smart meters. The City requests customers assist in the ease of access to their meter box during the installation process. Interruption to service for commercial and industrial customers is typically less than 30 minutes and interruption to residential customers is generally less than 15 minutes. To keep everyone safe, pets will need to be kept away from the meter location during installation. Cars should not be parked over the meter box.
The installation crew, staffed by factory-trained technicians, will maintain proper identification and be driving approved vehicles displaying the City decal while commencing official City business. Contractors will possess City approved identification. To anticipate customer needs and minimize impacts from this project, installers will ensure the meter is not actively engaged, signaling water usage in the house, and knocking on the door to notify the customer, prior to shutting off the water. To ensure installation is complete, workers will briefly test the meter, running approximately 10 gallons through to confirm proper installation and registration.
Upon completion of the meter replacement, the installation team will inspect the installation to ensure the meter box and surrounding area is returned to pre-installation condition. Installers will place a door hanger detailing the work completed and informing the resident of the status of the visit. If the installer is unable, for any reason, to complete the install, the door tag will identify the issue and offer reschedule options for the customer.
What to Expect
Your new AMI meter will be installed by Mueller, Inc's installation sub-contractor Keystone Utility System, or by City employees. The installer will have identification that shows he or she is a representative of Keystone Utility System or the City. You do not need to be home during installation.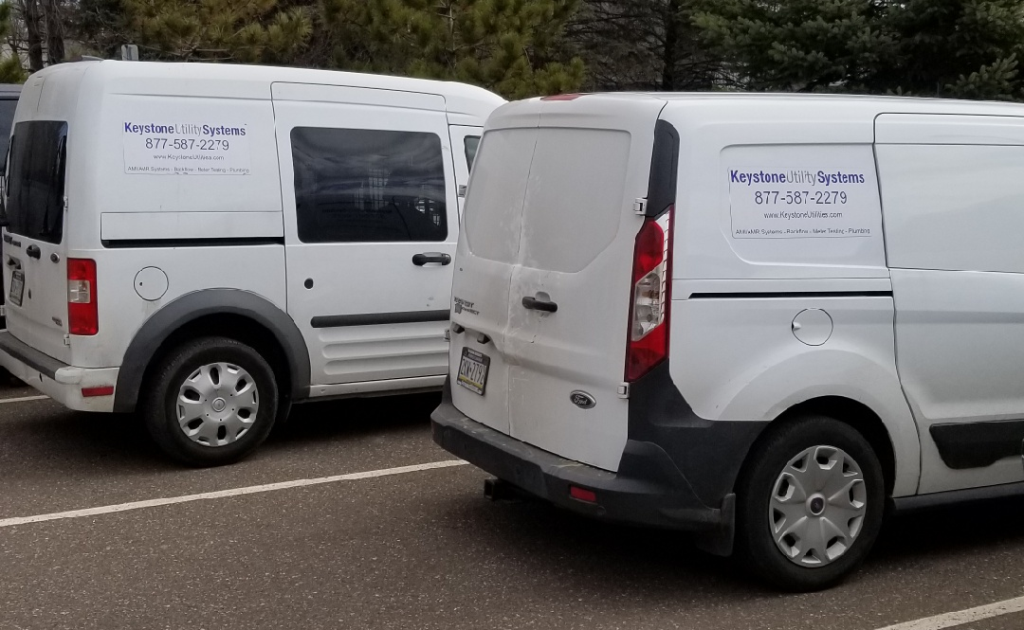 POP Phase Installation
One to two weeks prior to installation, a door hanger will be placed on your door indicating your meter will be replaced.
Appointments will be scheduled for customers on an as-needed basis. This includes appointments for customers who have meters that are inaccessible to the installer, and some commercial and industrial accounts.
For scheduling purposes only, the contact information for Keystone Utility Systems is: Phone: 877-587-2279. www.KeystoneUtilities.com
How You Can Help
Let family members or tenants know about the upcoming installation and provide safe access to the water meter, generally located in your driveway or near the sidewalk, by:
Clearing any obstructions from around the water meter, including trimming plants or bushes;
Unlocking any gates that would block installer access; and
Securing pets away from the water meter.
Day of Installation
On the day of installation, the installer will visit your meter box and exchange your current water meter for a new automated meter. The installation takes about 30 minutes to complete, during which the water will be shut off for about 15 minutes. When the work is complete, the installer will leave a door hanger that will explain the procedure that took place, communicate any further action(s) needed by the customer if a meter was unable to be exchanged, and provide instructions for flushing the water line prior to use.
Please also note:
A new meter box lid may be installed.
Pre and post installation photographs will be taken.
Post-installation
After installation of the AMI meter, you may still see the meter installation vendor or City employees in the area conducting quality assurance audits on the installations performed in your neighborhood.
Once your AMI meter is installed, your water usage will be read and transmitted via a secure radio transmission on a daily basis instead of the current manual monthly meter reads.
AMI Frequently Asked Questions (FAQs)
Q. Why do I need a new water meter?
A. The City will be initiating a proactive meter replacement program, to replace meters that have reached the end of their useful life.
Q. How will my water meter be replaced?
A. The current water meters will be replaced with new AMI meters in the existing meter boxes. The installation crew will assess the need for any repairs to the meter or surrounding infrastructure. A new meter box lid may be installed. The City and/or the City's contractor may need to clear the area surrounding the meter box in order to allow access. Please trim plants and bushes and clear any obstructions from around the meter box prior to your meter install.
Q. Do I need to be home when my water meter is being replaced?
A. No, you do not need to be home during replacement.
Q. What other cities are currently using AMI?
A. AMI is currently being used by various cities and districts throughout the country. Local entities include the cities of Huntington Beach, Fountain Valley, Long Beach, and Laguna Beach County Water District.
AMI Radio Frequency FAQs
Q. Are there any health hazards associated with the new technology?
A. No. The equipment operates at a low-power radio frequency, comparable to a cordless telephone. All equipment operates in compliance with state and federal communication standards. Water meters are typically installed away from the house so potential exposure is very limited; the communication device only turns on for a fraction of a second per day (totaling approximately 2 ½ minutes per year).
Q. How does the radio frequency of the AMI communications device compare to other common household devices?
A. Information on radio emissions from AMI water meters as compared to other common household radio sources was excerpted from the Automated Water Meter Program Radio Frequency Assessment conducted by the San Francisco Public Utilities Commission.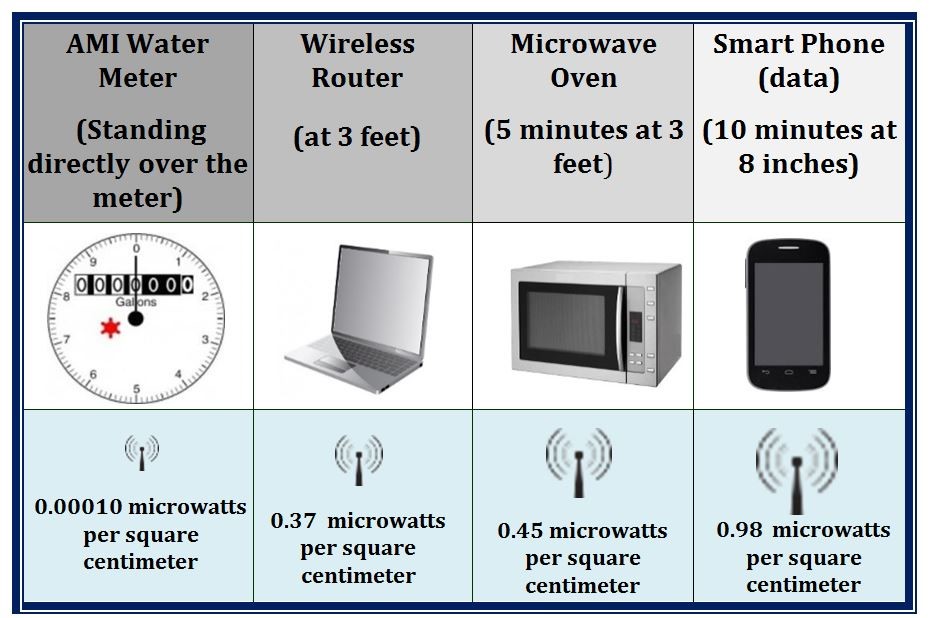 AMI POP Meter Location Map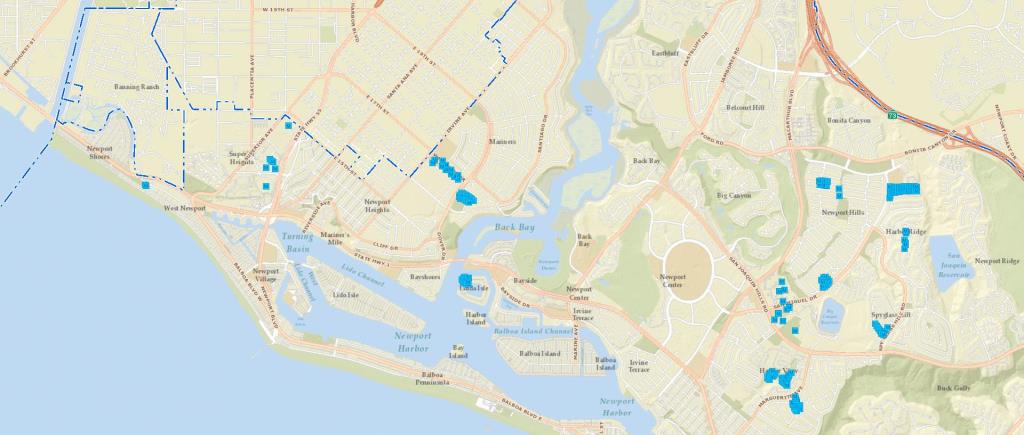 AMI Collectors and Repeaters Location Map
(Coming soon): Customer Water Use Portal
During the POP phase, the City will be reviewing water use data to ensure the collectors and repeaters and newly installed meters are working properly prior to full implementation of the AMI project citywide. The Smart Energy Water (SEW) customer use portal will not be accessible during the POP phase. However, with full implementation of the AMI project, SEW will be made available to City of Newport Beach water customers. The portal will allow our customers to view their near real-time water usage and set up and receive usage alerts. When registering for the first time, you will need your account number and service address.
Stay Informed
The City is committed to minimizing impacts and keeping you informed about the project. For Additional questions and concerns about the Advanced Metering Infrastructure Project:, please contact the City of Newport Beach Utilities Department at: (949) 644-3011.
Additional Information
Mueller Product Information