Lifeguard Job Opportunities
Seasonal Ocean Lifeguard:
The City of Newport Beach Lifeguard Division is seeking Seasonal Ocean Lifeguards candidates. Join our amazing team and have a rewarding and epic summer!
Apply:
Applications are due February 4, 2020 by 5:00 p.m. Pacific.
Applicants must be 16 years old on or before March 1, 2020.
No prior lifeguard experience required.
Visit newportbeachca.gov/jobs to sign up for notifications and view current City of Newport Beach job postings.
Tryout:
Qualifying applicants will be invited to a tryout on Sunday, February 9.
No wetsuits allowed. Goggles are optional.
Tryout consists of a 1000-meter ocean swim and 1000-meter run-swim-run.
Top finishers will be invited to an interview.
Train & Learn More:
JOIN US! Click the flyer below for more information and to RSVP to our info night.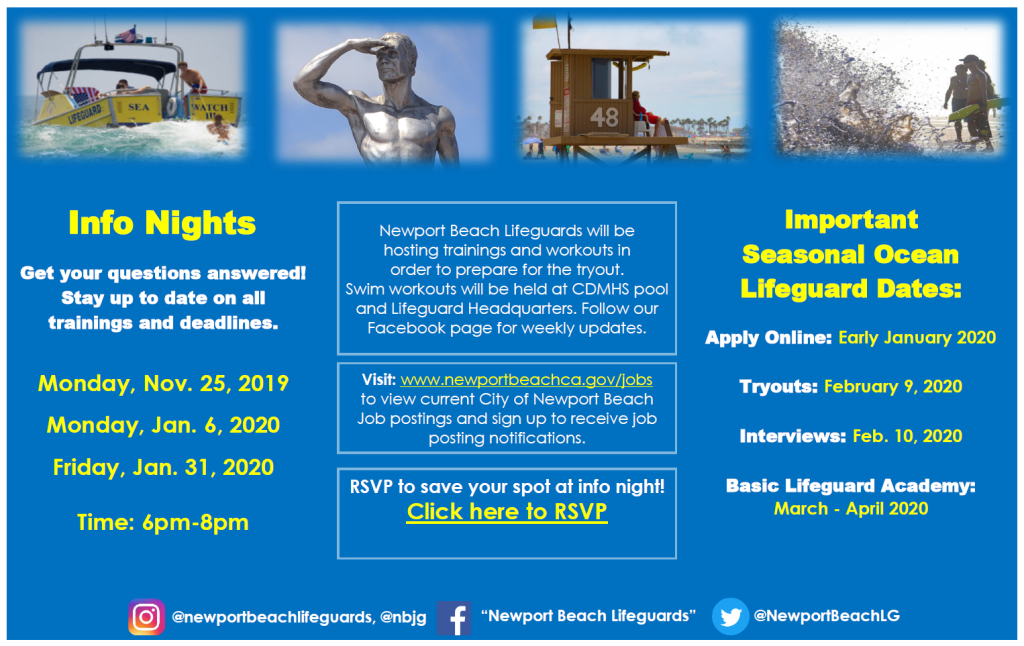 The Newport Beach Lifeguards are hosting Information Nights for interested candidates. Attendees will learn about:
Pre-tryout training opportunities
Tryouts
The Basic Lifeguard Academy
The post-academy hiring process
And more!
Dates:
November 25
January 6
January 21
Time: 6 p.m.
Location: Benjamin M. Carlson Lifeguard Headquarters, 70 Newport Pier, Newport Beach, CA