The City Arts Commission presents another series of "Concerts on the Green" during the summer of 2018. Concerts on the Green will be "on the Green" at the Newport Beach Civic Center, 100 Civic Center Drive, Newport Beach. Concerts begin at 6 p.m. and end promptly at 7:30 p.m. and are free to the public. Bring your low-slung beach chairs and a picnic dinner or purchase food from gourmet food trucks. Stay tuned for our announcement of next year's line-up.
Matt Mauser, A Celebration of the Music of Frank Sinatra
June 17
Matt Mauser and Pete Jacobs capture Sinatra at the height of his career when singing with The Count Basie Orchestra in Las Vegas. Matt's vocal style and Pete's genius as a conductor are a tribute to the two greats coming together.
The Springsteen Experience
July 15
Bruce Springsteen is one of the most prolific song writers and storytellers of our time. Josh Schreiber and the band perform his catalog of music, and -- with the utmost sincerity, respect, and gratitude -- wish to thank Bruce Springsteen and The E-Street Band.
Tijuana Dogs
August 12
Back by popular demand, Tijuana Dogs is a well-loved Southern California band, who play an eclectic mix of rock, R& B, jazz, country, and pop.
Desperado, #1 Eagles Tribute Band
September 9
Desperado has become one of the best and most well known Eagles tributes in the United States. They boast a line-up of five lead singers and multi-instrumentalists; which not only possess and rivals the musical talents of the actual Eagles, but have been used to play with members of the Hall of Fame band itself. Desperado was founded in 2002 by lead singing guitarist and keyboardist Aaron Broering.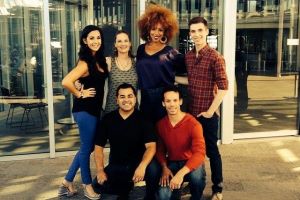 Southland Sings **JUST ADDED!**
September 23 (Peninsula Park)
Southland Sings will present a repertoire of Broadway and pop hits at a performance on the Balboa Peninsula. Food trucks will not be on site at this event. Concert-goers are encouraged to support local area restaurants.
Participating food trucks:
(Burger Monster Sept. 9 only)
View video from the 2017 Concerts on the Green on NBTV streaming video
City Arts Commissioner Lynn Selich Talks to radio station KPCC about the 2017 Concerts on the Green. Listen here.
NOTE: If you are a musician or band manager interested in participating in the 2019 Concerts on the Green, please send a CD, DVD and/or press materials to the Cultural Arts Office, 1000 Avocado Ave., Newport Beach, CA 92660, or email your digital audio files and materials to arts@newportbeachca.gov, before January 1, 2019. Please clearly mark the package (or email subject line) "Concerts on the Green."