Southland Sings: Broadway Hits September 23 (Peninsula Park)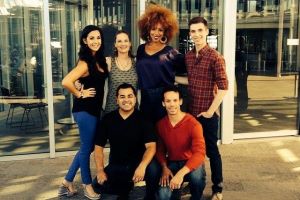 Southland Sings will present a lively choreographed concert featuring upbeat contemporary and classic Broadway hits. Best-loved songs from Gershwin, Cole Porter and Rodgers and Hammerstein, combined with favorites from popular newer shows, such as "Wicked", "Dear Evan Hansen", and "Leap of Faith", will make a memorable evening for audience members of all ages. In addition, the group will perform a medley of songs from "Aladdin." The set will feature four singers from Disneyland's Aladdin Show, and Anamazement, including Danny Stiles, who played the Genie, Sam Pablo who played Aladdin, and Cassandra Murphy who played Jasmine.
The concert is free and open to the public. Attendees are encouraged to bring blankets and low-slung beach chairs for an enjoyable evening of music. Bring a picnic dinner or enjoy a pre-show dinner at local restaurants. No alcohol.
View video from the past Concerts on the Green on NBTV streaming video
City Arts Commissioner Lynn Selich Talks to radio station KPCC about the 2017 Concerts on the Green. Listen here.
NOTE: If you are a musician or band manager interested in participating in the 2019 Concerts on the Green, please send a CD, DVD and/or press materials to the Cultural Arts Office, 1000 Avocado Ave., Newport Beach, CA 92660, or email your digital audio files and materials to arts@newportbeachca.gov, before January 1, 2019. Please clearly mark the package (or email subject line) "Concerts on the Green."