Sculpture Exhibition in Civic Center Park
Sculpture Exhibition in Civic Center Park - Phase V
The Newport Beach City Council approved ten new sculptures and proposed locations within Civic Center Park, as recommended by the City Arts Commission, for Phase V of the Sculpture Exhibition in Civic Center Park.
The ten new sculptures were selected from submissions received by a national call for entries based on their artistic merit, durability, practicality and site appropriateness. They are scheduled for installation Mid-July and will remain at the Civic Center Park for two years.
GRAND OPENING
New Dates to be Announced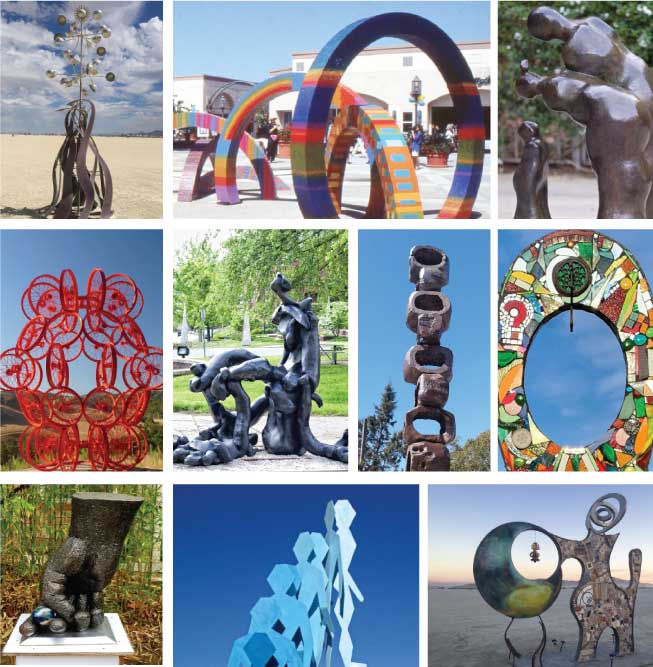 The Phase V sculptures are as follows (left to right, down):
Cosmo by Roger Heitzman, Scotts Valley, CA
Fractured Peace by Nancy Mooslin, Los Angeles, CA
I'm Listening by Monica Wyatt, Studio City, CA
The Unbearable Lightness of Being by Patricia Vader, Martinez, CA
Seated Diana by Curt Brill, Tucson, AZ
Primemover by Grant Irish, Oakland, CA
Window to the Sea by Andra Broekelschen, Corona del Mar, CA
Marble Shooter by Ron Whitacre, Laguna Beach, CA
Dude Ascending by Joe Forest Sackett, Albuquerque, NM
Individuality n.1 by ARTECLETTICA Dominic Panziera & Daniela Garofalo, Truckee, CA, Metal work by Anton Standteine
---

Sculpture Exhibition in Civic Center Park - Phase IV
The City Arts Commission invites the public to explore the Sculpture Exhibition in Civic Center Park, the City's largest display of public art. The Sculpture Exhibition was first installed in 2014 with sculptures on loan for two-year periods. Phase IV showcases ten large-scale pieces, which will be on display until June 2021.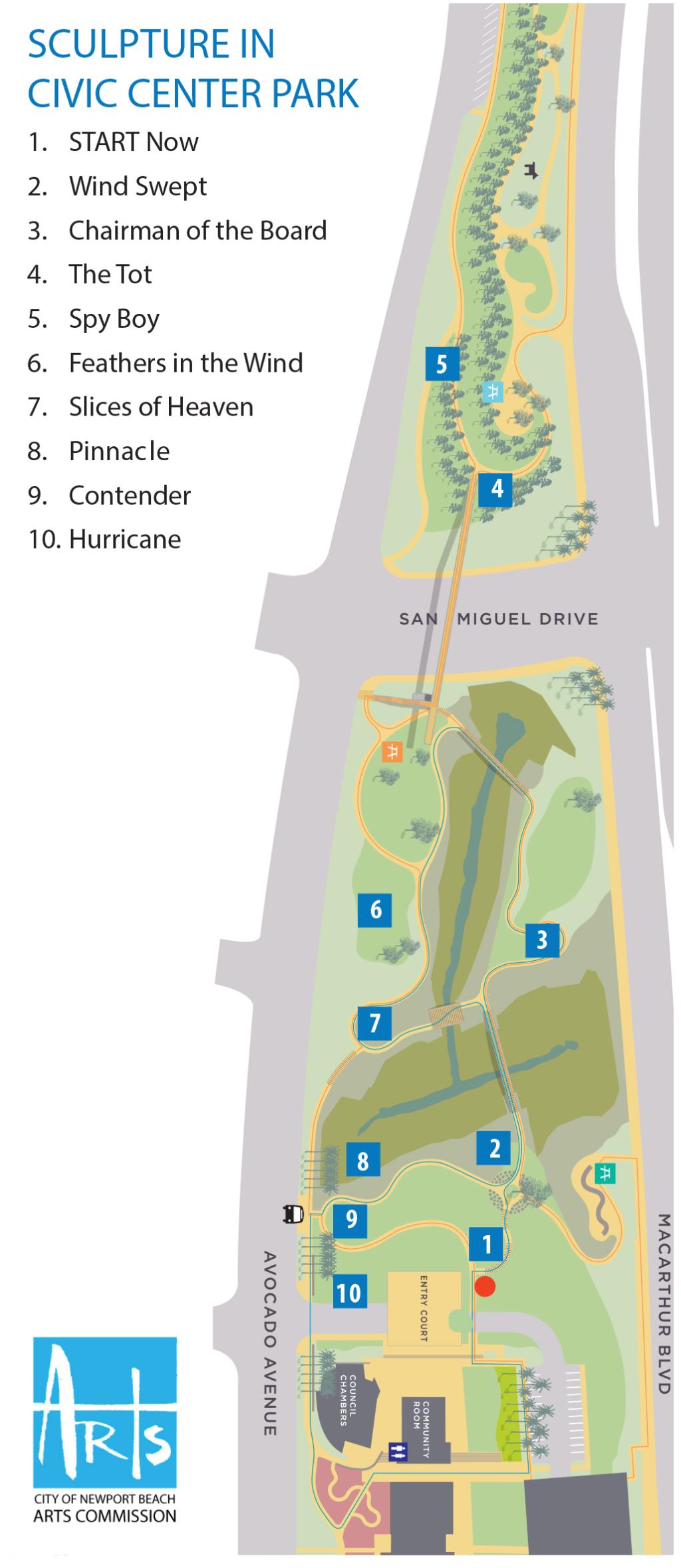 ---

Sculpture Exhibition in Civic Center Park - Phase III
The exhibition period for one piece from Phase III has been extended, and it will be on display through the end of June 2020.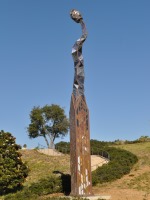 Burnt Matchstick
Artist: Karl Unnasch
Physically inspired by radio tower design, this 40-foot sculpture, with its soft-glowing beacon and slow flicker, captures a fleeting moment in time: the split-second after a burning wooden matchstick has been extinguished by a gust of air. Varying combinations of amber, black, blue and white domestic opalescent glass aggregate in a multi-planar fashion in the construction of this larger-than-life, seemingly innocuous object.
---
HISTORY OF THE SCULPTURE IN THE CIVIC CENTER PARK EXHIBITION
Newport Beach Civic Center Park - 100 Civic Center Drive, Newport Beach
In August 2013, the Newport Beach City Council authorized the City Arts Commission and City staff to implement a temporary sculpture exhibit in Civic Center Park. The City Council approved the installation of ten sculptures in Phase I of the project and additional ten sculptures in Phase II. The sculptures installed in year one were on display for two years and were removed and returned to the artists in 2016. Those installed in year two, or Phase 2, will be removed in September 2017. The ten sculptures selected for installation in September 2015 are shown in this Phase 2 Presentation.
A grand opening celebration on September 12, 2015 marked the installation of nine new sculptures in Phase II of the Sculpture in the Civic Center Park Exhibition with the tenth sculpture, "Sunflower," to be installed in January 2016. The community was invited to view the sculptures, meet the artists and enjoy music and refreshments at the Civic Center. Docent led tours of the Sculpture in Civic Center Park Exhibition were conducted by members of the Newport Beach Art Foundation.
---

MOBILE APP SELF-GUIDED WALKING TOUR OF THE PARK
For a self-guided walking tour of the Sculpture in the Civic Center Park Exhibition, download the "MyNB" app from the Apple App Store or Google Play. Search for "MyNB." If you already have the "MyNB" app on your mobile device, update it to include the latest additions to the Sculpture Exhibition.
---

In the News