Sculpture Exhibition in Civic Center Park
Sculpture Exhibition in Civic Center Park - Phase VII
The Sculpture Exhibition in Civic Center Park is an integral feature of the Newport Beach Civic Center. Civic Center Park, which turned nearly half a million square feet of undeveloped land into a new public park, was designed by renowned landscape architectural firm Peter Walker and Partners (PWP). The City Arts Commission determined that a rotating exhibition, in which pieces are loaned for a 2-year period, was an optimal approach to bring sculpture to the City in a cost-efficient manner. In 2013, the Newport Beach City Council authorized the City Arts Commission to implement an inaugural rotational sculpture exhibit in Civic Center Park.
Admission is free and the exhibition continues to be enjoyed by residents and guests of all ages and sensibilities. The exhibition has become a "museum without walls" that offers the temporary display of public art in a unique, naturalistic setting. Moreover, the City is able to exhibit a well-balanced representation of public art, with artistic merit, durability, practicality, and site responsiveness as criteria in the selection of work. The rotational nature of the exhibit ensures that residents and guests are exposed to a variety of work.
Join us on Saturday, June 25 for the Sculpture Exhibition Phase VII Grand Opening Event!
EVENT DETAILS:
Saturday, June 25 from 1-4 p.m.
Newport Beach Civic Center & Park
100 Civic Center Drive, Newport Beach 92660
Dedication Ceremony in Council Chambers, 1-1:30 p.m.
Children's activities, music, and light refreshments!
The sculptures selected for public vote were chosen by the City Arts Commission, curatorial panel members May Sun, freelance artist and professor at the California Institute of the Arts with a permanent collection at the Museum of Contemporary Art in Los Angeles, and Brian Peterson, muralist, former industrial-designer at Kia Design Center America, and founder of the nonprofit organization, The Faces of Santa Ana; along with representatives from ArtsOC at the December 9, 2021 regular monthly meeting. Panelists discussed criteria for artwork under consideration and reviewed sculpture applications. The panel evaluated the works in four critical areas -- artistic merit, durability, practicality, and site appropriateness -- and then selected artworks of various sizes, mediums, and subject matter for the public online survey. Unlike previous years, the public's vote selected the final ten sculptures that will be installed for Phase VII of the sculpture exhibition. These sculptures reviewed by City Council at the February 8, 2022 Regular Meeting and were voted for final approval.
Selected sculptures will be on loan to the City of Newport Beach for two years. Sculptors, whose artworks are chosen for installation in Civic Center Park, will receive a small honorarium. The City is responsible for installing the art, while artists are responsible for the maintenance and repair of their work. The outdoor exhibition attracts an audience of all ages, including schoolchildren, the local community, and visitors from Southern California and beyond.
PHASE VII SCULPTURES:

The Phase VII sculptures are as follows (left to right):
Eve by Joe Forrest Sackett, Albuquerque, NM
Pathway Parabola by Greg Mueller, Lutsen Mountain, MN
Where Have All The Birds Gone? by Marguerite Elliot, Fairfax, CA
Pluma Sculptura, a.k.a. "The Feather" by Kirk Seese, Lutherville-Timonium, MD
To The Moon by Alex G, Vista, CA
Prey by Mr. & Mrs. Ferguson, Alameda, CA
Archeology of the Everyday by Tyler Burton, Palm Springs, CA
A Novel Idea by Craig Gray, Key West, FL
David by Miggy Buck, New York, NY
Cross-Section by Tim DeShong, Caratunk, ME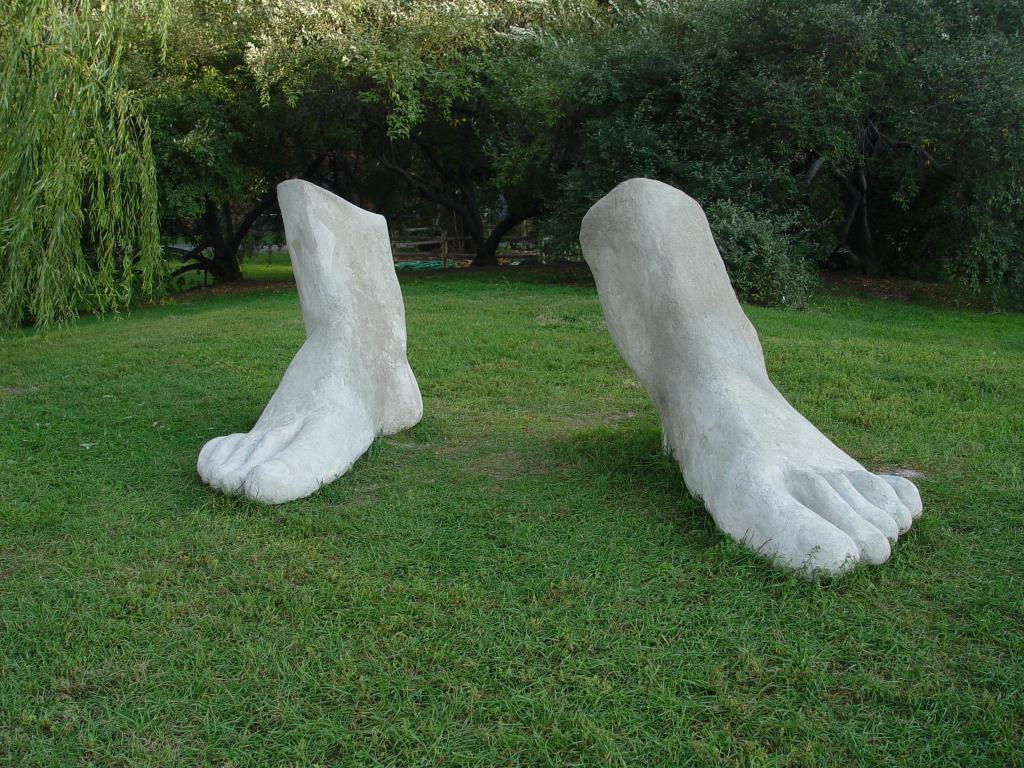 Sculpture Exhibition in Civic Center Park - Phase VI
Phase VI of the Sculpture Exhibition in Civic Center Park. The ten sculptures were selected from submissions received by a national call for entries based on their artistic merit, durability, practicality and site appropriateness. Arts Orange County provided professional services for the coordination of the artist selection and installation of the sculptures. They are scheduled to be on display in Civic Center Park for two years.
INSTALLED JUNE 2021

The Phase VI sculptures are as follows (left to right):
Talking Heads by Oleg Lobykin, East Palo Alto, CA
Celestial Carousel by Adrian Susnea Litman, Santa Rosa, CA
Birdman by Steven Rieman, Yucca Valley, CA
Scorpion by Colin Selig, Walnut Creek, CA
Suncrest by Eino Romppanen, Pahrump, NV
Woodpeckers by Michael McLaughlin, Torrington, CT
The Migration of My Dreams by Marisabel Bazan, West Hollywood, CA
(x)ofmanychildren by Robert Visani, Brooklyn, NY
Finish Line by Ron Whitacre, Laguna Beach, CA
Leaf Spiral by Ken McCall, Boise, ID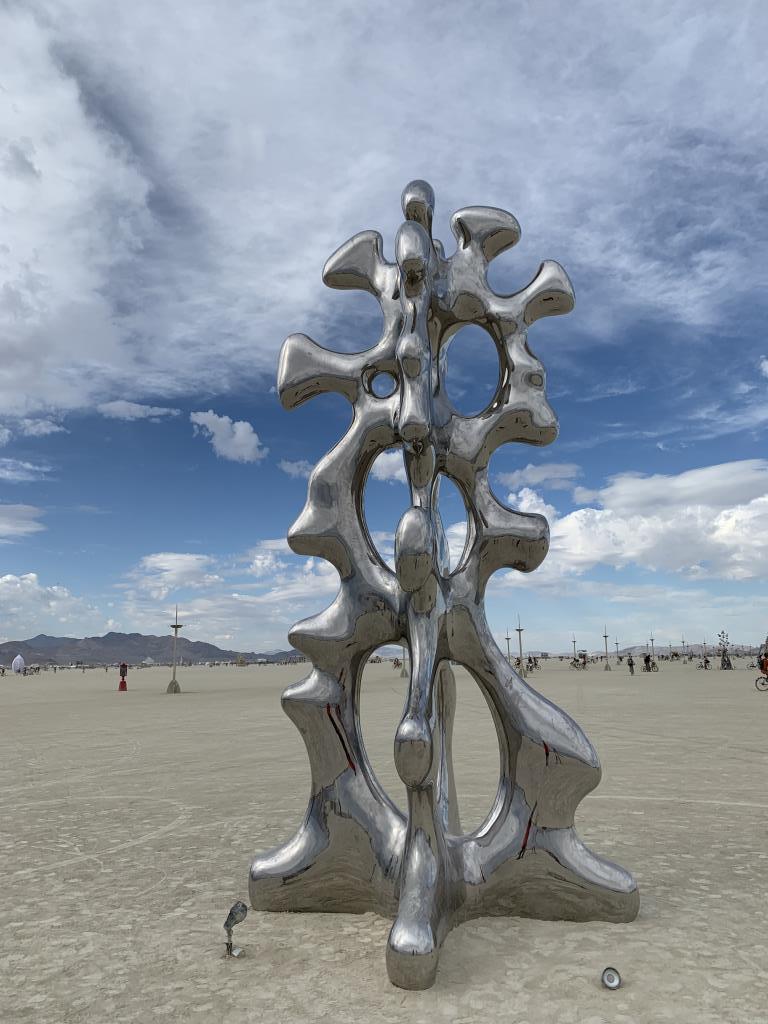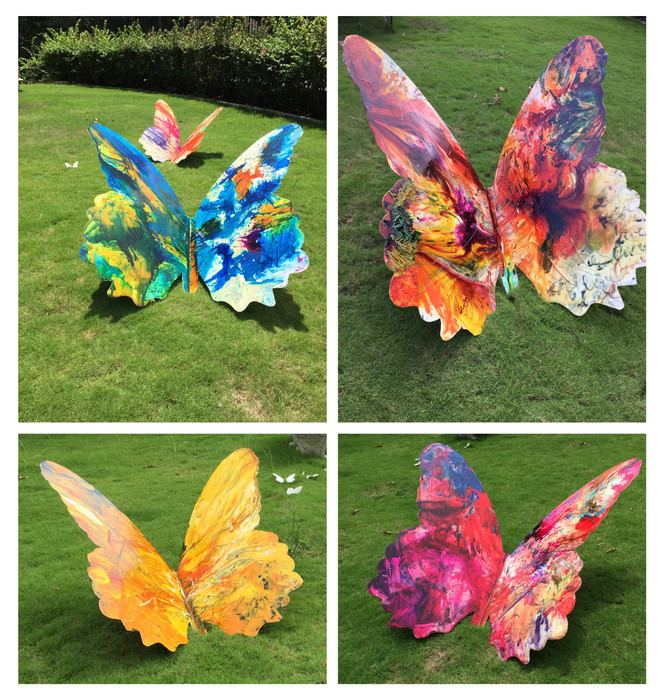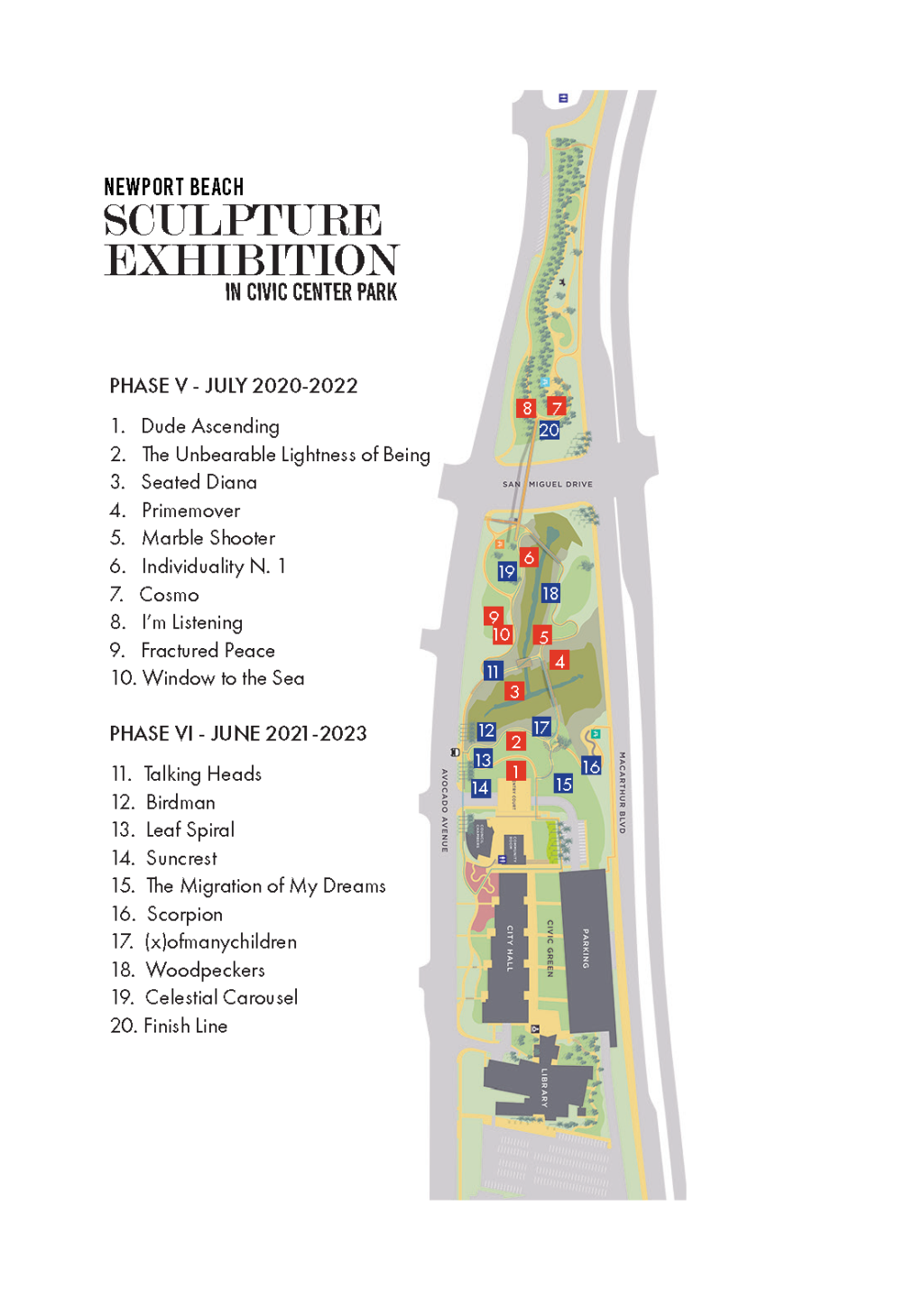 ---
HISTORY OF THE SCULPTURE IN THE CIVIC CENTER PARK EXHIBITION
Newport Beach Civic Center Park - 100 Civic Center Drive, Newport Beach
In August 2013, the Newport Beach City Council authorized the City Arts Commission and City staff to implement a temporary sculpture exhibit in Civic Center Park. The City Council approved the installation of ten sculptures in Phase I of the project and additional ten sculptures in Phase II. The sculptures installed in year one were on display for two years and were removed and returned to the artists in 2016. Those installed in year two, or Phase 2, will be removed in September 2017. The ten sculptures selected for installation in September 2015 are shown in this Phase 2 Presentation.
A grand opening celebration on September 12, 2015 marked the installation of nine new sculptures in Phase II of the Sculpture in the Civic Center Park Exhibition with the tenth sculpture, "Sunflower," to be installed in January 2016. The community was invited to view the sculptures, meet the artists and enjoy music and refreshments at the Civic Center. Docent led tours of the Sculpture in Civic Center Park Exhibition were conducted by members of the Newport Beach Art Foundation.
---

MOBILE APP SELF-GUIDED WALKING TOUR OF THE PARK
For a self-guided walking tour of the Sculpture in the Civic Center Park Exhibition, download the "MyNB" app from the Apple App Store or Google Play. Search for "MyNB." If you already have the "MyNB" app on your mobile device, update it to include the latest additions to the Sculpture Exhibition.
---

In the News