Cultural Arts Grant Applications
Each year, the City of Newport Beach distributes funds to arts organizations, enabling them to expand arts programs offered to the local community. To apply, arts organizations are required to meet the following criteria and submit a Cultural Arts Grant:
Only arts organizations are eligible; we do not award grants to individual artists.
Arts organizations must propose projects/programs for funding that directly benefit children and adults living in Newport Beach, and schools only within the City's geographic boundaries. Collaborative events, such as public performances or programs implemented in conjunction with the City of Newport Beach are also eligible for grants.
The Arts Commission funds only arts projects/programs which will be presented before the designated dates (to be announced), not general operating expenses.
Arts organizations that received cultural grants during 2018-19 will not be considered unless they have completed and returned their Cultural Arts Grant Completion Report, even if they have not completed some of the components of the project/program by the grant application due date.
All applications must be typed or word-processed and complete with requested attachments. You may reformat on the computer as long as the font and pagination appears the same.
The Newport Beach Arts Commission strives to satisfy as many grant requests as possible. We encourage your submission, however appreciate your cognizance of budget constraints as we work to address a growing pool of grant applicants.
We will announce the next application period in early 2021.xt
---
Cultural Arts Grants Awarded for 2019-20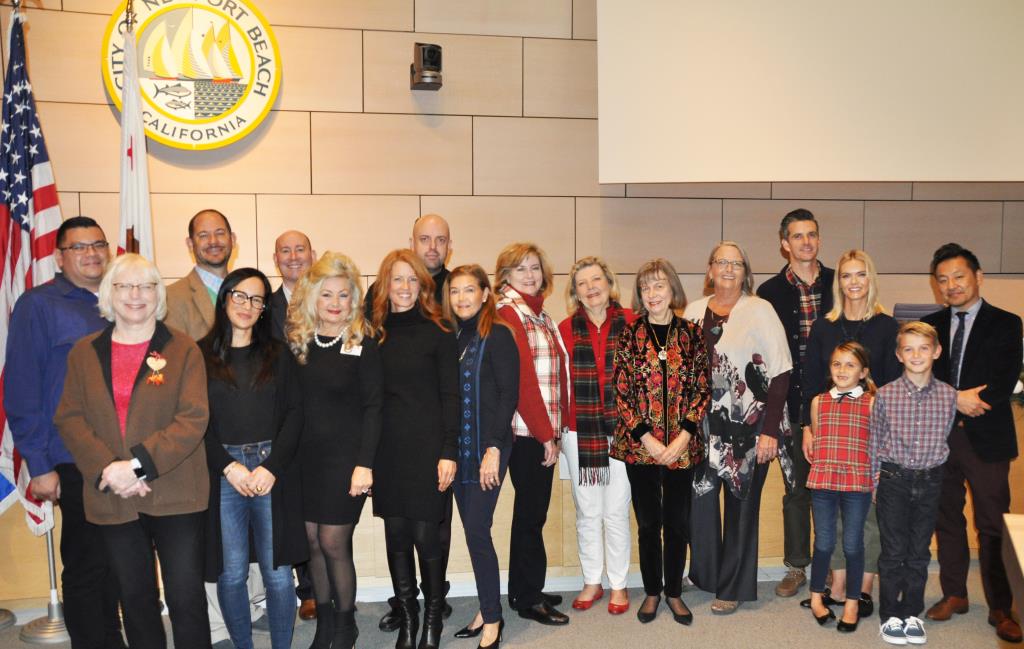 (Recipients of the 2019-20 Cultural Arts Grants-

Left to right: Jonathan Terry, Pacific Symphony; Vina Spiehler, Baroque Music Festival; Doug Vogel, Laguna Playhouse; Wayan Kaufman, Arts Commission; Ron Dufault, Philharmonic Society of Orange County; Arlene Greer, Chair, Arts Commission; Michelle Bendetti, Arts Commission; Raymond Jacobs, Kontrapunktus; Marie Little, Arts Commission; Maureen Flanagan, Arts Commission; Penny Rodheim, Balboa Island Improvement Association; Patricia Brill, Baroque Music Festival; Denise Dion-Scoyni, Chuck Jones Center for Creativity; Richard and Brie-Ann Robinson and family, Newport Elementary School Foundation; Alex Wang, South Coast Repertory)
The City Arts Commission is pleased to announce that the recipients of the 2019-20 Cultural Arts Grants are as follows:
Balboa Island Improvement Association: $2,500
The BIIA will promote cultural activities and musical appreciation by presenting live classical musical performances throughout the year. The concerts will be held at St. John Vianney Chapel. The BIIA will also stage free summer concerts of popular music at Balboa Park, adjacent to the Beek Center.
Baroque Music Festival: $4,000
The Baroque Music Festival will use the grant funds to bring opera singers, dancers, and instrumentalists to Newport Beach for the zarzuela performance. The funds will also be used to subsidize the cost of student tickets for this concert.
Chuck Jones Center for Creativity: $2,000
Chuck Jones Center for Creativity will use the grant funds for the continuation of "Food for Thought: Creativity Workshops with Brain Health in Mind". The program goal is to provide exceptional cognitive exercises for four different brain functions (memory, executive function, visual function, and language). The program will be held at OASIS Senior Center.
Kontrapunktus: $2,000
Kontrapunktus will use the grant funds to help produce a free classical concert at Our Lady Queen of Angels Catholic Church on April 18, 2020, focusing on "The Bachs".
Laguna Playhouse: $5,000
Laguna Playhouse will use the grant funds for a performance at their theater for approximately 420 Newport Beach students and to support ticket costs for field trips for local Newport Beach students.
Newport Elementary School Foundation: $500
The Newport Elementary School Foundation will fund the Arts Masters Program. This program consists of full-day lectures and assemblies conducted 6 times through the school year. Each lecture is a multimedia presentation assembly using art visuals, images, and engrossing stories covering each artists and/or art subject. In addition, there is an accompanying art activity for each lecture that enables each student to create their own individual work of art in the manner of the master artist or art subject, using the same techniques, styles, media, and disciplines.
Pacific Symphony: $5,000
Pacific Symphony's Frieda Belinfante Class Act partnership will enable three Newport Beach elementary schools (Anderson, Harbor View, and Newport Coast) to participate in this unique partnership program. Class Act strives to enhance existing school music programs by providing additional musical experience through the Symphony. Focusing on six main "contact points" with schools, the program works to increase awareness of and involvement with symphonic music for elementary school students, their families and educators.
Philharmonic Society of Orange County: $5,000
The Philharmonic Society of Orange County will use the grant funds for youth music education programs and concerts featuring professional musicians, as well as their Music Mobile in-school program, which are provided free of cost to students of the Newport-Mesa school district. The programs and concerts will benefit grades 3 through 12. The 5th Grade Concert showcases the Philharmonic's Orange County Youth Symphony with 200 student musicians, including budding musicians from Newport-Mesa high schools. We have also worked with Chapman University's dance department to create a physical dimension to the music program.
South Coast Repertory: $5,000
South Coast Repertory (SCR) will use the grant to fund their Theatre for Young Audiences (TYA) program, an annual series of three professionally produced plays created especially for children. Initiated by SCR in 2003, TYA extends the range of the theatre's offerings and makes available to the community original, SCR­commissioned world premieres and existing adaptations of popular and classic children's literature. As the only professional youth-oriented theatre company in Orange County, TYA's main purpose is to introduce the vitality and magic of professional theatre to all Orange County children, especially those in underserved areas.