Mooring Permittees
For information, permit processing or guest rental services, visit the Harbor Department located at Marina Park, 1600 W. Balboa Boulevard, Newport Beach, 92663. Staff is available daily from 8 a.m. until 6 p.m. by using Channel 19a, calling 949-270-8159 or by emailing dockmaster@newportbeachca.gov.
To update your mooring contact information, please use the form below:
Mooring Contact Information Update Request Form
General Mooring Information
Most of the moorings in the harbor are secured via bow and stern and may or may not be equipped with the tackle necessary to secure your boat. Be prepared to rig your own lines to the mooring cans.
As the depths of the harbor varies, boat owners are responsible for monitoring conditions with the changing tides.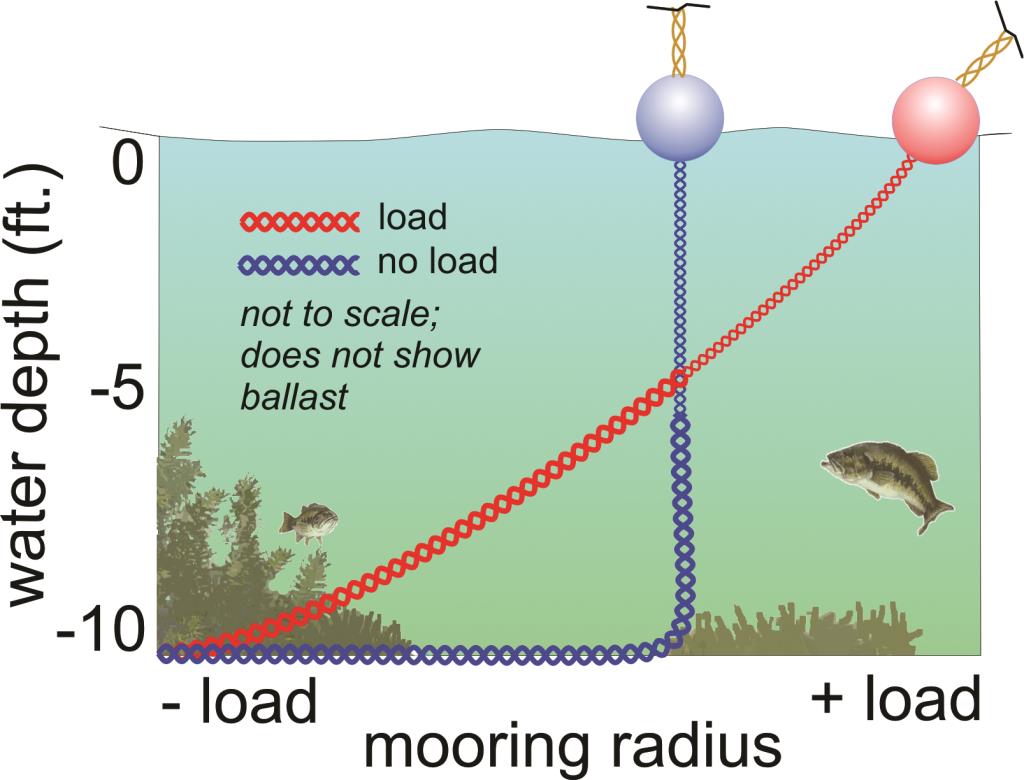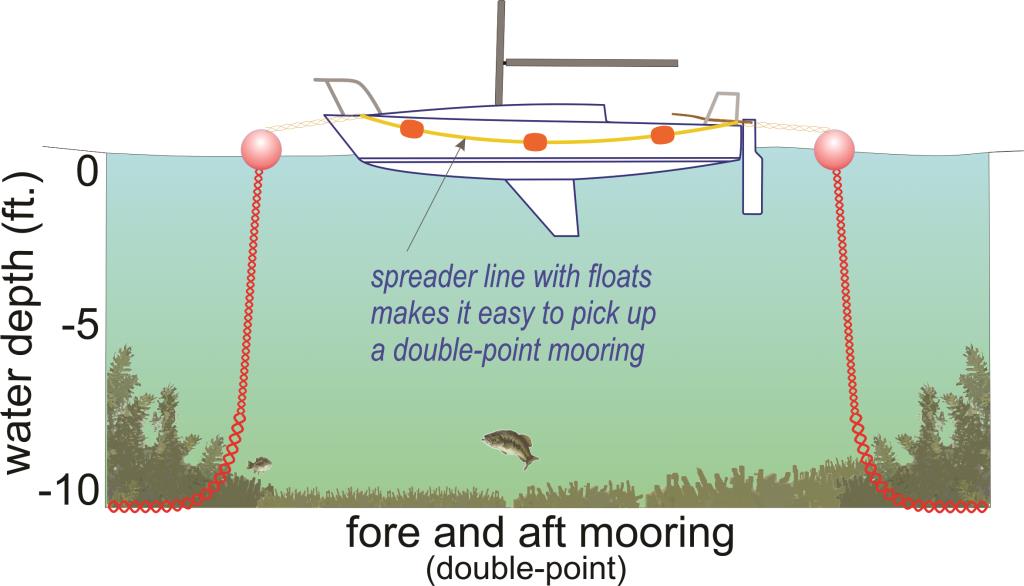 Off-Shore Moorings - Permits, Rents and Specifications
Mooring Permittees shall pay mooring permit rent based on the lineal foot of the mooring annually adjusted by CPI, as established by City Council Resolution No. 2016-17. The 2023 rate for an off-shore mooring is $3.29 per lineal foot per month ($39.38 per lineal foot annually).
Specifications
Off-Shore Mooring Specifications
(click image to enlarge)
All mooring buoys shall be of an approved type and painted with the assigned number (three-inches high).
All vessels must be moored fore and aft, except in exposed areas designated as single-point mooring areas.
All locations must be allocated by the Harbor Department staff and moorings inspected before installation.
The top and bottom chain shall be shackled together to form one continuous length.
Length of mooring chains shall be determined by Harbor Department staff.
Mooring pendants are an important part of the mooring and must be properly made up with thimble and shackle to each buoy at the time of installation and kept in good condition at all times.
Download the requirements for the

weight of moorings and minimum diameter and length of lin

e to be used.
Shore Moorings
Mooring Permittees shall pay mooring permit rent based on the lineal foot of the mooring annually adjusted by CPI, as established by City Council Resolution No. 2016-17. The 2023 rate for an on-shore mooring is $1.64 per lineal foot per month ($19.68 per lineal foot annually).
Specifications
Shore Moorings
Maximum Length
of Boat
Minimum Weight
of Mooring
Minimum Size and
Length of Chain
12 FT
200 LBS
3/8 IN
25 FT
15 FT
250 LBS
3/8 IN
25 FT
18 FT
300 LBS
3/8 IN
25 FT
All mooring weights shall be metal and painted with the assigned numbers.
A four-inch by four-inch redwood post shall be used in areas where there is no seawall. The post shall be painted white and with the assigned numbers. an "eyebolt" shall be used in areas where there is a seawall.
Buoy and post shall have a pulley attached with a line of not less than 3/8-inch diameter at all times. The vessel shall be moored securely bow and stern and must not be left on the beach.
Note: Onshore moorings are for vessels 18' and under. Vessels on onshore moorings must be self-righting on an incoming tide without flooding the vessel.
Mooring Transfers
A mooring transfer must be completed when buying and selling a mooring permit, per Municipal Code Section 17.60.040. Transfer forms must be fully completed, notarized and submitted to Madison Vitarelli, Permit Technician. Transfers are processed by appointment only and can be made by contacting Madison Vitarelli at Mvitarelli@newportbeachca.gov or 949-718-3429
Mooring Transfer Log (list of moorings sold and the prices)
Note: Please make sure to read all terms, conditions, etc. and provide all necessary signatures (with a valid notary where needed) and documentation at the time of transfer. Please allow 20-30 minutes for your appointment processing time.
General Regulations
The regulations of moorings in Newport Harbor are defined in the Newport Beach Municipal Code Section 17.25-Berthing, Mooring and Storage, and 17.60.040 Mooring Permits. Below is a summary of the section.
All vessels berthed, moored or anchored shall be in its designated place or it will be directed to move.
Vessels must be moored or anchored to prevent it from swinging or drifting into any turning basin or channel.
No mooring or buoy shall be placed in the waters of City-owned or controlled tidelands without first obtaining a permit.
No person shall use a mooring unless he/she holds a current and valid permit, except for temporary use with permission of the Harbor Department.
No mooring may be leased or rented by the permittee to another person.
Maintaining your mooring and buoy:

All chains and fastenings must be of sufficient size to stand a breaking strain of at least six times the weight of the mooring.
All mooring lines on buoys shall be arranged so they sink immediately when dropped. Double moorings can connect two mooring lines with a spreader line with floats attached when the mooring is unoccupied.
Mooring buoys shall be painted with the number allocated. The numbers shall be at least three inches in height.
All moorings shall be kept in good and serviceable condition in the assigned location.

Vessels assigned to a mooring by permit must be maintained in an operable and seaworthy condition. A vessel inspection may be requested to demonstrate that the vessel is seaworthy and operable.
No vessel owner shall allow the following unlawful and public nuisance conditions to occur:

Promotion of a fire hazard
Retention of water that becomes stagnant
Accumulation of storage of rubbish, trash, debris, rubble, containers and/or boxes
Storing or securing a vessel that impedes pedestrian travel on City beaches or tidelands
Contribution to hazards to public safety and health, such as rats, insects or other unsanitary conditions
Non-seaworthy conditions that are unsafe, unsightly or poorly maintained
Installation of a marine sanitation device that is not connected directly to an internal holding tank at all times while in Newport Harbor

Each mooring shall be lifted for inspection at least once every two years and repaired or replaced as needed.