Mandatory Recycling Laws for Businesses

For more information regarding the mandatory recycling laws for businesses,
please visit the following pages:

Holiday Collection Schedule

Residential trash is not collected on the
following holidays:

New Year's Day
Memorial Day
Fourth of July
Labor Day
Thanksgiving
Christmas

If the observed holiday falls on a weekday,
trash collection is delayed by one day for the remainder of the week.

Quick Links
Residential Collection
Newport Beach Expands Residential Recycling Program
The City of Newport Beach is implementing a new and improved recycling collection program. The City is updating our trash and recycling service contracts to meet new state mandates. In partnership with our waste hauler, CR&R Environmental Services, we're launching an expanded recycling collection program that will require all homes to use separate recycle containers and to recycle organic waste.
State Environmental Requirements
Starting Jan. 1, 2022, Senate Bill 1383 will require all Californians to recycle organic waste, including food waste and green waste, in addition to standard recycling materials. The new rules aim to reduce organic waste disposal by 75% by 2025, as a strategy to address the climate crisis. Landfills are the third largest source of methane in California. As organic waste decomposes in landfills, it emits 20% of the state's methane, a climate super pollutant that's 84 times more potent than carbon dioxide.
Preserving Newport Beach's Quality of Life
To benefit our residents and help protect our beautiful coastal environment, the City is also improving collection routes to reduce disruption to our neighborhoods and increase efficiencies. This will help reduce noise and pollution from collection trucks.
New Waste and Recycling Carts
The City and our waste contractor, CR&R Environmental Services, are preparing to meet the new state mandate, known as Senate Bill 1383, and implement other residential service improvements beginning in early 2022. All trash and recycling in Newport Beach must be placed in the proper carts.
Each Newport Beach household will receive:
Black-top cart for trash
Blue-top cart for recyclables
Green-top cart for organics waste (early 2022)
Two-gallon pail to collect organic materials in the kitchen (early 2022)
Recycling Cart Size Options
Based on their needs, residents can choose a 32, 64 or 96-gallon blue-top recycling cart and up to one free additional recycling container. You can request an additional cart for a nominal fee.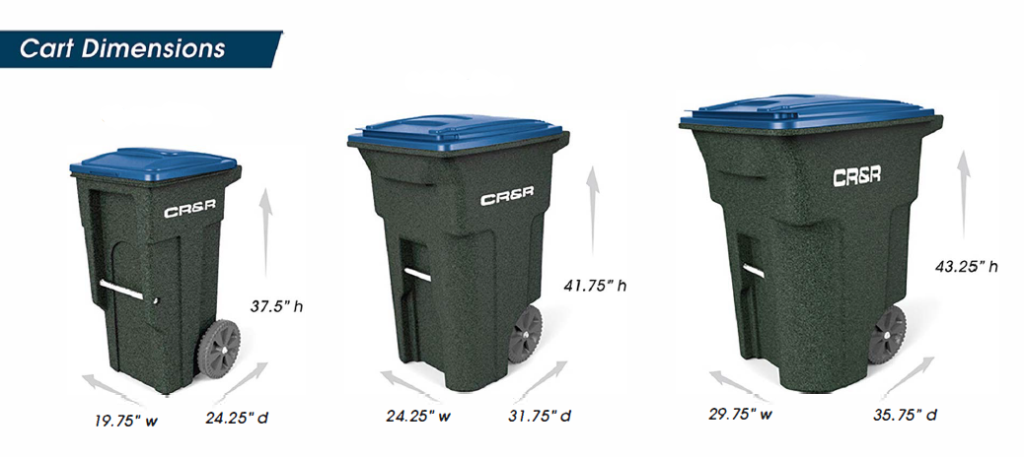 Service Schedule
Your recycling service day will be on the same day as your trash collection. Some residents may have their collection days adjusted as a result, beginning around February 2022. The City and CR&R will notify residents in advance about any changes to home trash and recycling schedules.
Special Services and Assistance
In addition to CR&R's regular collections, arrangements can be made for the following:
Special services: Residents who need assistance placing their carts curbside each week will be provided assistance upon request. Disabled residents can receive assistance free of charges. Others may receive the service for an additional fee.
Bulky items: Residents may request bulky item pickups four times per year at no additional charge.
Household Hazardous Waste: You can arrange for toxic Household Hazardous Waste (HHW), including e-waste, door to door pickup.
Sharps disposal program: Approved sharps containers can be delivered to your home and picked up.
Billing and Fees
Residents are not directly billed for CR&R's service. It is not necessary for new residents to sign up for residential refuse collection provided by the City, since no disposal fees are collected. However, a recycling rate of $6.32 per residential unit per month for Newport Coast and $6.77 per residential unit per month for the City area is included in your municipal bill. The recycling fee covers the cost to the City for the materials recovery facility to separate and recycle commingled trash. The fee pays for the recycling portion only and not for the refuse collection service.
You can request an additional carts for an additional fee.
For additional information on the recycling fee, please see the 2020 Residential Recycling Fee Summary and FAQ.
For questions regarding your municipal services billing, visit the Revenue Division or call 949-644-3050.
Expanded Recycling Program Frequently Asked Questions
Please click here to view a list of frequently asked questions (FAQs) about the newly expanded program.
More Information
For full details about the program, visit the Expanded Residential Recycling webpage.
For residential refuse collection customer service, or to reschedule a missed pickup, please contact CR&R directly at 949-667-4158 or csnewport@crrmail.com.
Santa Ana Heights
Residential refuse collection in the Santa Ana Heights area is provided by CR&R under contract with Costa Mesa Sanitary District (CMSD). Weekly collection is automated and residents must use the trash containers provided by CR&R.

To order additional containers, find out what day your collection occurs, arrange a bulk item collection, or sign up for service, contact CMSD directly at 949-645-8400 or info@cmsdca.gov for assistance.
Commercial Collection
Franchised haulers provide commercial solid waste collection within the city. This includes contractor-generated solid waste for residential projects. Franchised haulers are required to comply with state-mandated recycling and diversion requirements, and provide the City with monthly tonnage reports, which includes collected and recycled weight in tons.
For information on how to obtain commercial trash and recycling services, or request dumpster bin services, see our Franchise Haulers List.
For access to active franchise hauler agreements, please visit our archive.
Resources
City Contact Information