Newport Beach Customers - Track your water use with Aquatrax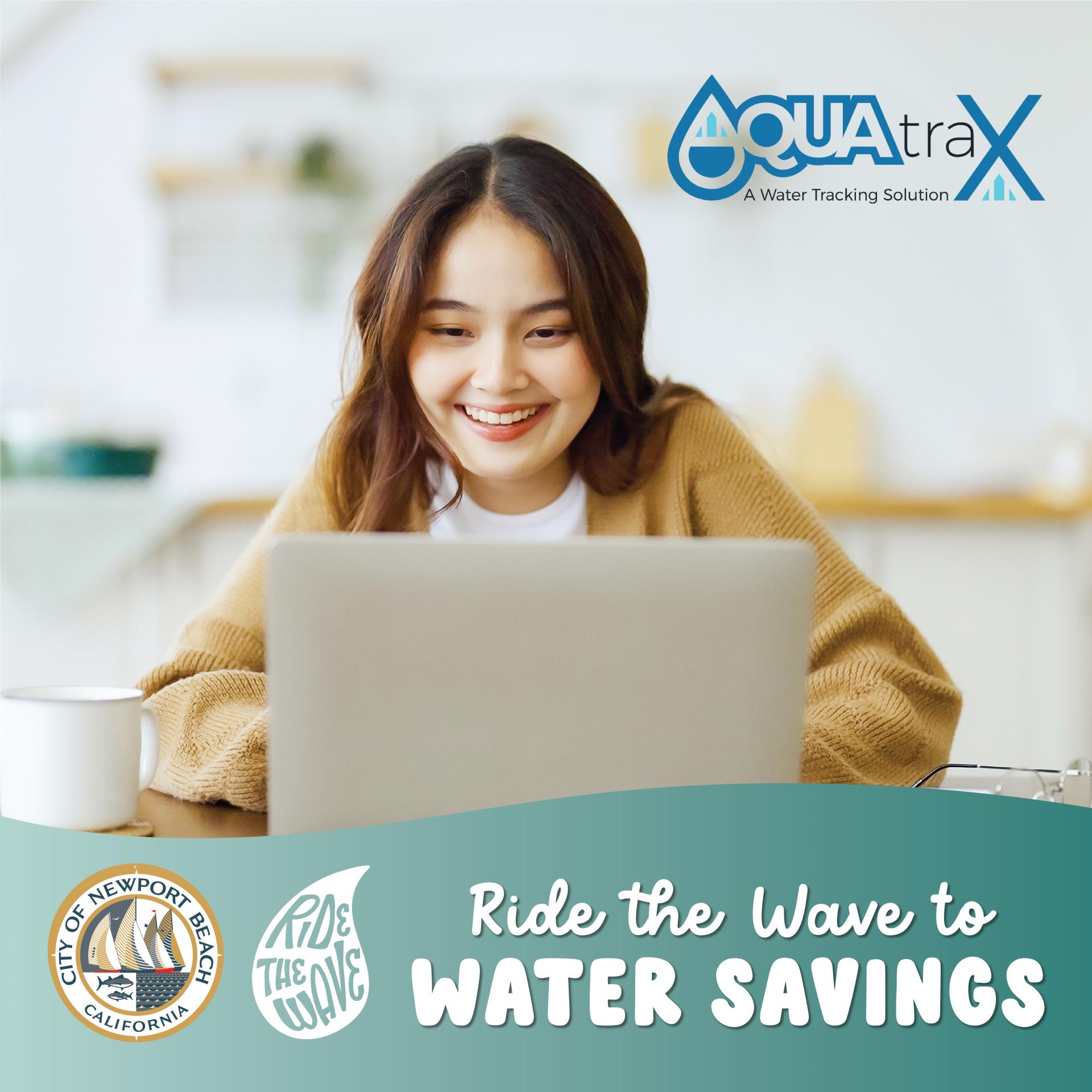 View your water use and budget by entering the same user name and password used to pay your water bill. If you have not set up online bill pay you can still access your water use by registering at www.nbca.gov/wateruse. [View More] PDF
Did You Know?
Newport Beach has three Municipal Codes regulating the use of water? Before you decide to clean that patio or re-landscape your yard please familiarize yourself with the City's water saving and water quality codes.
NBMC 14.16 Conservation and Supply Level Regulations
NBMC 14.17 Water Efficient Landscaping and Landscape and Irrigation Design Standards
NBMC 14.36 Water Quality
Permanent Restrictions
Per the City's Municipal Code noted above, every water customer is required to comply with the following restrictions:
No watering landscape between the hours of 9:00 a.m. and 5:00 p.m.

Limit watering landscape to no more than 10 minutes per station for automated irrigation systems.

Repair water leaks or breaks within 3 days

Watering outdoor landscapes in a manner that causes runoff.

No washing down hard surfaces including sidewalks and driveways.

Irrigating lawn, shrubs or ornamental landscape during or 48-hours after rainfall.

Operating a fountain or decorative water feature, unless the water is part of a recirculating system.

Washing a vehicle (including cars, trucks, boats, trailers and recreational) with a hose, unless the hose is fitted with a self-closing shut-off nozzle.
Commercial Properties
No watering of non-functional grass

Restaurants and other food service establishments can only serve water to customers on request.

Hotels and motels must provide guests with the option of not having towels and linens laundered daily.
50 Ways to Save Water
For more information on how to save water, check out 50 Ways to Save Water and our Resources page.
Efficient Water Use
We are asking residents and businesses reduce water where possible. Future drought water restrictions are very likely. In preparation, the City has made major investments in leak detection, new digital water meters, and beautifying the City with drought-tolerant landscaping. Additionally, many private properties throughout the city have made major investments to reduce their water use. This combined effort will assist in maintaining a sustainable pathway to efficiency. For more water saving programs and rebates visit www.ocwatersmart.com.
California Friendly Landscaping Resources and Rebates
Water saving programs and rebates visit www.ocwatersmart.com.
Explore beautiful, sustainable, climate-appropriate, drought-tolerant plants, trees, and grass that thrive in Orange County. Visit www.ocwatersmartgardens.com for garden inspiration and information. With a click of a button, add your favorite plants to a private list that you can print and take to your favorite nursery.
If you need more assistance in designing and installing your drought tolerant landscape, please contact the California Landscape Contractors Association.
It Pays to be Water Smart!
There are several Water Use Efficiency Rebate Programs for both
residents
and
commercial businesses
. For more information on how you can cut your water use visit
www.
ocwatersmart.co
m
or call us at
949-644-3388
. Rebate funding is limited and subject to availability.