Resource Efficiency and Water Quality Annual Report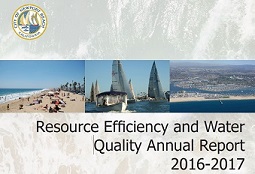 The City prepares the Resource Efficiency and Water Quality Annual Report to highlight the ongoing water efficiency efforts and ocean water quality projects. Below are links to the current and past reports.
Where OC Gets Its Water
Sprinkler Tune-Up
When it comes to a home's irrigation system, a little maintenance goes a long way. Before you replant for the summer months, tune-up your irrigation system by remembering four simple steps—inspect, connect, direct, and select. More details are found here.


Inspect. Look over your irrigation system for clogged, broken or missing sprinkler heads.



Connect. Examine points where the sprinkler heads connect to pipes or hoses. If water pools in your landscape or you have large wet areas, you could have a leak in your system. A leak about as small as the tip of a ballpoint pen (or 1/32nd of an inch) can waste about 6,300 gallons of water per month!


Direct. Are you watering the driveway, house, or sidewalk instead of your yard? Redirect sprinklers to apply water only to the landscaped areas.



Select. An improperly scheduled irrigation controller can waste water and money. Update your system's watering schedule to align with the seasons, or select weather based irrigation controller to take the guesswork out of scheduling.
Homes with automatically timed irrigation systems use about 50 percent more water outdoors than those without. Your system can waste even more if it's programmed incorrectly, a sprinkler head is pointed in the wrong direction, or you have a leak.

Check Your Sprinklers For Leaks
Learn to Make Your Garden California Friendly®
The City hosted a waterwise gardener workshop in April. During the workshop, attendees learned about the drought, water conservation and improving their landscape using California Friendly plants. If you missed the workshop, you can watch the video to learn the tips for rethinking your landscape.
It Pays to be Water Smart
The current rebate for Weather-Based Irrigation Controllers is up to $80. These devices, we call "Smart Timers" can help save more than 13,500 gallons of water per year for the average homeowner This is done by the system automatically adjusting the irrigation schedule to account for weather changes. The controller rebate application can be found online at
ocwatersmart.com
. Rebate funding is limited and subject to availability.
California Friendly Landscaping Resource
The link below offers a variety of native and California Friendly plants that are suited to southern California's semi-arid climate and require very little water. Click
here
to view a listing of these resources.

Need assistance in designing or installing your drought tolerant landscape?
Click
here
for a certified licensed landscape contractor or architect.
www.clca.org
5 Easy Steps to Setting Your Irrigation Controller
Top 10 Tips for the Home Gardener
Water infrequently, deeply and thoroughly - Most lawns need about 3/4 to 1 inch of water once per week, or once every two weeks when the weather cools. Infrequent but deep watering will encourage deep rooting, healthier and hardier plants with a greater tolerance for drought.
Water at the right time of day - Water early in the day, especially in warmer weather, when evaporation rates are lowest.

Note: Watering is prohibited between the hours of 9 a.m. and 5 p.m.

Watch your lawn rather than a calendar - Your lawn needs watering when:

Grass blades are folded in half
Grass blades are blue-gray
Your footprint remains on the lawn

Too much water can damage the root-zone of plants - over-watering creates shallow roots, making plants more vulnerable to disease and pests, as well as drought.
Drip or micro-irrigation systems save water - These systems deliver water to the root of plants, and much less is lost to the atmosphere.
Mulching - Adding mulch helps to keep water in the soil around plants. At least two inches is suggested around shrubs, trees, annuals and vegetable and flower gardens.
Remove Weeds; Add Native Plants - Weeds or other unwanted plants use water. Removing them means more water for the plants you want. Native plants are adapted to our rainy and dry seasons, and offer habitat to area wildlife.
Install a rain sensor - This recognizes when nature brings the water your lawn needs, and shuts off automatic sprinklers.
Adjust your lawnmower blades - Most lawns are healthiest when blades are 2 1/2 to 3 1/2 inches long. Longer blades shade the soil, and keep in water.
Keep lawnmower blades sharp - Clean, sharp cuts cause less trauma to grass blades, making the grass more resistant to disease.
Water Conservation
Did you know that Newport Beach has three municipal codes regulating the use of water? Before you decide to clean that patio or re-landscape your yard please familiarize yourself with the water saving and water quality codes.
Rebates and More Information
The City Newport Beach offers several Water Use Efficiency Programs. For more information on how you can cut your water use visit,
ocwatersmart.com
or call us at 949-644-3388.