Newport Village Mixed-Use Project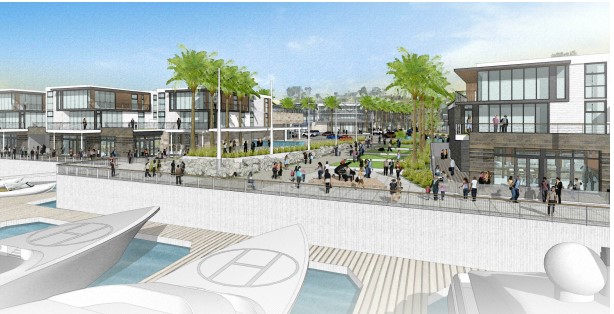 Project Description:


A mixed-use development encompassing approximately 11.05 acres on the north and south sides of West Coast Highway in the Mariner's Mile corridor. The project includes 175 residential units, 240,650 square feet of office, retail, and restaurant uses, and a new 75-boat marina. A new signalized intersection would provide primary access to the project. The design includes a new publically accessible waterfront promenade and 1,343 parking spaces within two underground parking structures. Buildings above grade are 35 feet in height. All existing structures will be demolished and existing uses will be discontinued with project implementation. The project includes approximately 1,000 linear feet of new bulkhead along the bay.
Vicinity Map
Project Site Plan (click on image to enlarge)
Discretionary Actions:


The applicant requests the following approvals:
Approval in Concept – for Coastal Commission review of the bulkhead and marina improvements
Coastal Development Permit-to allow the project construction and uses in the Coastal Zone
Conditional Use Permit- to allow a Parking Management Program including a reduction in the parking requirement, valet parking, and vehicle lifts
Site Development Review-to allow the adjustment of building height above the 26/31' base height limit to a maximum of 35 feet and the project construction on an 11.05 acre site
Tentative Tract Map- to merge underlying parcels and allow 175 residential condominium units and commercial units
Traffic Study - to consider the projected increase in vehicle trips resulting from the proposed project pursuant to the City's Traffic Phasing Ordinance. A traffic study is required in accordance with the City's Traffic Phasing Ordinance because the project generates more than 300 average daily trips
Environmental Impact Report (EIR):

An EIR is anticipated to address reasonably foreseeable environmental impacts resulting from the project specific discretionary approvals, an Initial Study and Environmental Impact Report (EIR) are warranted for this project pursuant to the California Environmental Quality Act (CEQA). Anticipated studies with the EIR include a/an:
Archeological/Paleontological Study
Aquatic Biological Study
Construction Phasing and Management Plan
Construction Pollution Prevention Plan and Storm Water Pollution Prevention Plan (SWPPP)
Geotechnical Study
Hydrology Study
Noise Study
Parking Study
Phase I and Phase II Environmental Studies
Traffic Study
Utility Demand Analysis
Valet Plan
View Simulations
Water Quality Management Plan (WQMP)/Water Quality Hydrology Plan (WQHP)


Project Schedule
Submitted December 4, 2017
Incomplete letter sent to project applicant December 21, 2017
Project Review Request(PRR) routed to reviewing departments January 2, 2018 with comments due back January 16, 2018
Anticipated Future Events
Additional application materials received: TBD
RFP sent: TBD
Application Deemed Complete: TBD
EIR Consultant PSA to City Council: TBD
EIR Scoping Meeting: TBD
EIR public draft released for comments: TBD
Planning Commission Meeting: TBD
Development Impact Fees
Fair Share Fees and Park Fees Apply
Project Planner:


Makana Nova, Associate Planner
(949) 644-3249
mnova@newportbeachca.gov