Eelgrass (Zostera marina)
Eelgrass is a saltwater flowering plant. Like plants and seaweeds, eelgrass photosynthesizes contributing oxygen to the air we breathe. It is among the most productive marine habitats and is important in numerous ways.
Eelgrass Survey Report
Eelgrass Protection and Mitigation Plan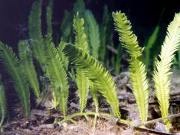 Caulerpa Taxifolia
A non-native and highly invasive marine seaweed, Caulerpa taxifolia (hereafter Caulerpa) was discovered in two Southern California locations in summer 2000. Although Caulerpa poses no threat to human health, it may have devastating economic and environmental consequences for California if it becomes permanently established.
Reporting Forms