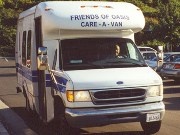 OASIS Senior Center offers affordable ride-share transportation for Newport Beach seniors over the age of 60 who are no longer able to drive. Transportation is available for medical appointments, shopping, essential errands and OASIS Senior Center classes and events.
Hours of Operation
Monday - Friday 7:30 a.m. - 5:00 p.m.

Areas of Service
Newport Beach, Newport Coast & Corona del Mar


Wheelchair Accessibility
Most of our vehicles are wheelchair accessible. We provide curb-to-curb service; passengers who are in a wheelchair or require assistance in getting to their destination, must bring an attendant.

Reservations (949-644-3244)

First Time Pre-Registration is required
Advance reservation of 3 business days is required. Rides are subject to availability.

Cost
$3 each way to locations in Newport Beach for medical appointments, grocery shopping and other activities that are the necessities of life
$1.50 each way to the OASIS Senior Center
Wheelchair attendants ride free.
Riders must purchase a Ride card to use for payment, sold in denominations of $12, $30 and $60. Cards may be purchased in the Administration office or from a driver.
Look what's new in Transportation...
Current Transportation clients can request a tour of the City through the neighborhoods you may not have seen in years, or didn't even know existed. Some of the routes include the Back Bay, Balboa Peninsula, The Wedge/Jetty Park, Newport Coast, Buck Gully, and many more. The tour itself will be guided by our very own OASIS drivers who are very knowledgeable and will take about 45 minutes to 1 hour. Social distancing guidelines will be applied.