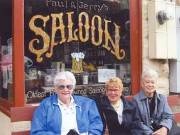 The
OASIS Travel Department
invites you to join them for one of their many exciting trips. Twelve volunteers work from 9 am - 1 pm, Monday through Friday setting up the trips and escorting the day trips. Stop in the Travel Office at OASIS or pick up the OASIS News to see the wide array of trips that are offered.
Extended trips
can be 3-5 days within driving range or a short flight leaving out of Orange County. There are always options for at least one gambling trip a month.

Day trips
include a variety of destinations such as Broadway productions, Lawrence Welk Resort, or other smaller musical & dramatic shows. Trips to museums, garden tours and other interesting locations are available. New trips are opened up every month so check the first of each month to be sure not to miss out on an exciting adventure.
All trips are sold on a first come first served basis and many sell out.
Call the
Travel Office
at (949)718-1810 for more information.