Dear Martin by Nic Stone
Review by Hargun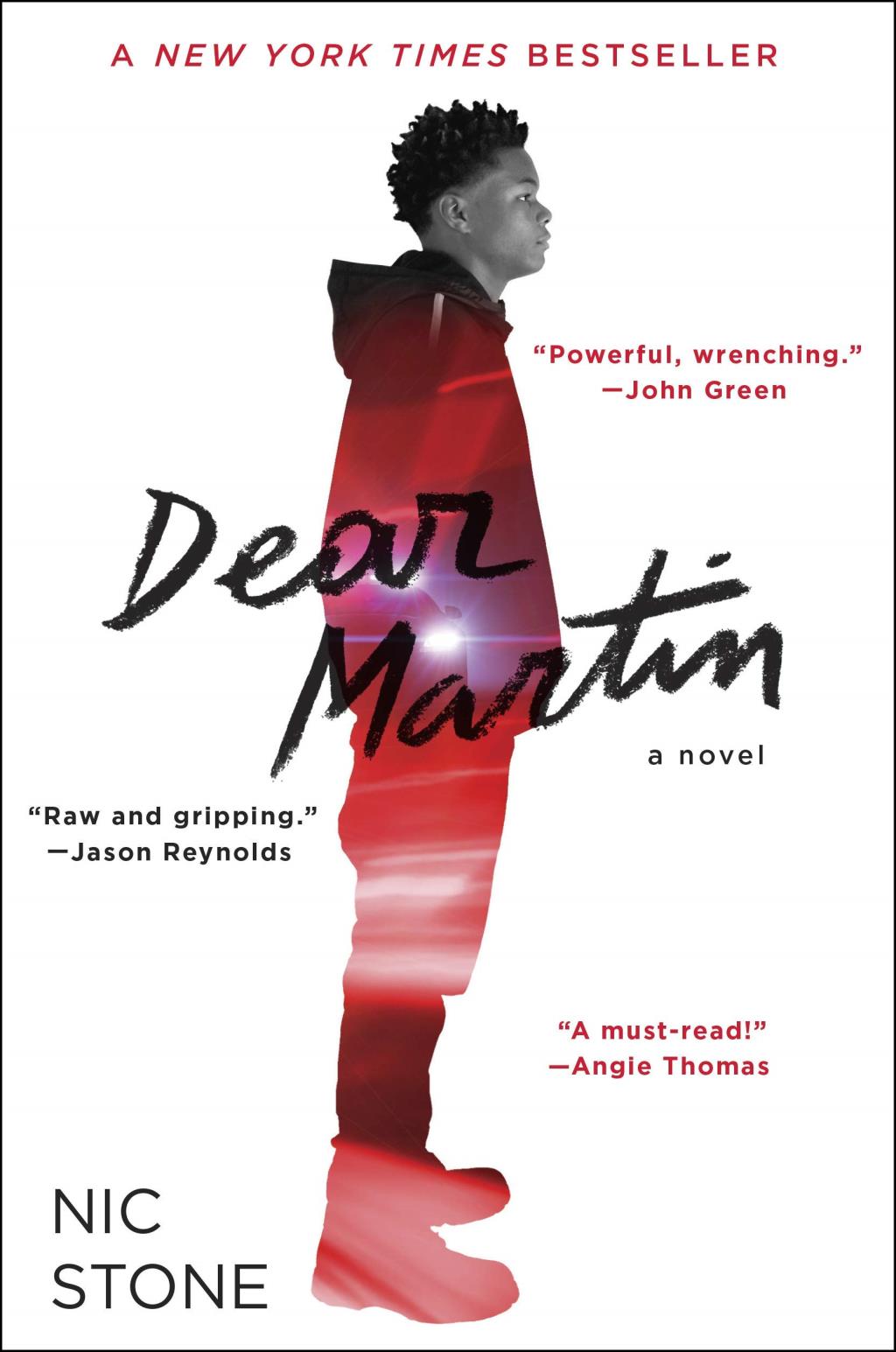 What do we think when we hear the word, justice? Some might say it is being nice to everyone, others might say it is treating people right and not segregating them for any reason. Although this might sound like something simple, it's not because in the world we live in today, colored people are socially discriminated against and receive injustice. Justyce Myers, an innocent black high school student, has faced this injustice first hand and through Dear Martin we develop a sense of how they feel.
Seventeen-year-old black high school senior Justyce McAllister, a full-scholarship student at the virtually all-white Braselton Prep, is the focus. After a bloody run-in with the police when they take his good deed for malice, Justyce seeks meaning in a series of letters with his "homie" Dr. King. He writes, "I thought if I made sure to be an upstanding member of society, I'd be exempt from the stuff THOSE black guys deal with, you know?" While he's ranked fourth in his graduating class and well-positioned for the Ivy League, Justyce is coming to terms with the fact that there's not as much that separates him from "THOSE black guys" as he'd like to believe. Despite this, Stone seems to position Justyce and his best friend as the decidedly well-mannered black children who are deserving of readers' sympathies. They are not those gangsters that can be found in Justyce's neighborhood.
From the very beginning, Justyce proved himself to be an empathetic protagonist. There was a clear thought process behind every action he made, especially in times when he was subject to a great number of dilemmas over what choice he should make and how it would affect himself and those in his surroundings. He never refrained from speaking questions, and was direct with his thought processes. Despite any preconceived notions about his race, Justyce always did what he felt was not necessarily always the right choice but the best he could come up with. In addition, the story's further cast of characters are all well-written and thought out; each character feels like a real person from society, and they are all reflective of the attitudes people of all walks of life contain today. The dialogue and interactions between the novel's characters felt natural, especially flowing well in the context of the story.
One character that stood out, in particular, was Manny. His character is practically the complete opposite of Justyce: he was born into a rich family, he generally refrained from hanging out with people of his own race and he didn't bother questioning issues; he always complied when his peers made racist remarks. However, as the story progresses, his character opens his eyes to problems in today's society and begins to see the injustices clearly. The immense character development made Manny one of the most memorable characters and shows that even the most reluctant people can change.
The book's chapters alternate between detailing Justyce's encounters and his letters written to Martin Luther King. I particularly enjoyed reading the letters for multiple reasons. For one, they were able to draw parallels between what is going on today and how it is not that different from what happened during MLK's time. Even though years upon years have passed, the letters clearly show how the issues that should've been resolved a long time ago still occur time and time again today. These letters also add to Justyce's character. The story portion of the novel is written in a third-person perspective, so while you get to learn and understand Justyce, you can't get too much of a feel of his inner thoughts and feelings that he doesn't portray to others. The letters, however, fill in gaps in readers' understanding.
In conclusion I would rate this book 5/5 stars because of how the author, Nic Stone, incorporates real messages in this book. The character Justyce portrays is as innocent as can be, and in many injustice cases in the real world, the victims are innocent people. Hopefully this book can encourage people to understand what it feels like to be discriminated against and empathize for these people. I recommend this book to any teen and any adult because we can all take away messages from this book to better the world.
Return to full list >>