The Book Thief by Markus Zusak
Reviewed by Rupin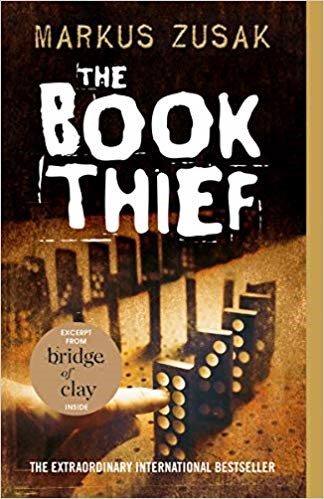 With tension boiling on the borders of Nazi Germany, young Liesel Meminger must find a way to bring people back together, or it will mean regretful death for all.
Narrated by a fickle character who presents the story in a beautifully hilarious but tense manner, The Book Thief by Markus Zusak is a thrilling story about Liesel Meminger, a young girl who is abandoned by her parents to embrace a new lifestyle in Molching (now known as Olching). In her first week there, she has nightmares about the death of her brother and the "theft" of The Grave Digger's Handbook. Slowly but surely, she starts making friends and adapting to life on Himmel Street. She tends to hang out with Rudy, whose sour attempts at romance and intense perseverance give Liesel a refreshing outlook on friendship and personal experiences.
The story starts to twist and turn when Max Vandenburg, son of Hans Hubermann's greatest friend, moves in with them in order to hide. Max, who is a Jew, cannot be seen by the general public because of the mass persecution of Jews at this time in history. Liesel and Max immediately connect, and Liesel uses Max's experiences to reflect on her ideals and her own life in the process. After several months, Max leaves the house, and is caught by the Germans on the way to Stuttgart. Although it is later revealed that Max survives, Liesel is distraught and explains the situation to Rudy and her other friends. The war starts to come to a close with several bombings and air raids on cities, and on one day, a bomb is sent off target to Himmel Street. The explosion then occurs, and Liesel is left the only survivor of the bombing.
I like the slice of life tone in this book, because Death's perspective makes it dark but also relatable and funny at times. Slice-of-life goes really well with some spot on comedy, and it makes the story highly relatable for such a casual genre. What I also really like in The Book Thief is Zusak's use of flashbacks to develop each character in the book, as it impacts the reader and makes for a very dramatic yet simple interpretation of each character. Zusak is really trying to connect the characters to the reader in some way, and that sets off all sorts of emotions in the reader, which I admire Zusak for.
One thing that I dislike in this book is that it SPOILS THE ENDING in the middle of the book to reference Rudy's personality and actions in the current scene. And as young adults in this day and age, what could be more irritating than spoilers for a movie you haven't seen or a sequel you haven't read? Although I see what Zusak is getting at in this scene, it makes no sense to spoil one of the best parts in the book just to get a leg up on a character who may or may not be affected in the ending. If I could do this differently, I would use foreshadowing to give readers a clue as to what will happen in the ending, and I would leave it up to the readers to piece together the ending right before the last chapter. I've seen this in many of my favorite drama/crime novels, and it is very fulfilling to put the ending together using clues and hints in the book.
I would rate this book an 8/10, because the ending was already predicted perfectly and the author was just too revealing in the story. The book still finishes off with a strong epilogue, and overall, gives readers a sense of relief after an intense scene.
Check out The Book Thief at the Newport Beach Public Library.
Return to full list >>