Picture of Dorian Gray by Oscar Wilde
Review by Anna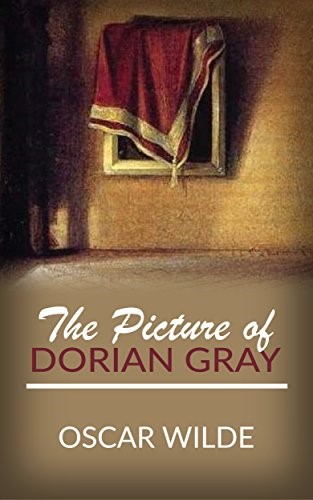 In The Picture of Dorian Gray a young man is granted eternal youth and beauty, using this innocent mask to hide his lost morality. This gothic fiction novel encapsulates the Decadent movement of the late 19th century, where aesthetic value and indulgence in life were popularly explored. The author, Oscar Wilde, was a famous poet and playwright but this remains his only novel. While this book is often portrayed as a horror story where evil manifests itself into an ever-changing portrait, the truly intriguing aspect lies within the man and not the mystery. Wilde's portrayal of his main character balances between condemning and glorifying this era, revealing no certainty about his own opinion on it. Generally, though, it speaks to the pitfalls of vanity and acting purely for the sake of aestheticism, as portrayed in Dorian's decline.
At the opening of the story, Dorian is a young, innocent, and charming man known for his good looks. His likeable character quickly takes a bleak and tragic turn when he meets Lord Henry Wotton who first introduces him to the appeals of decadence. While he's sitting for a painting, Lord Henry offhandedly reminds him that beauty is important, but fleeting. His opinions leave a large impact on Dorian, who begins to live by this new philosophy and finds himself overwhelmed by it. At the same time, he discovers the secret of his new portrait: it reflects his true self and becomes increasingly distorted and repulsive as he descends into debauchery. His appearance, on the other hand, remains faultless. Dorian is morally conflicted at first, but eventually takes advantage of this to do whatever he wants without consequence. His reputation worsens, but no one can believe the rumors once they meet him; his charm attracts other people, often ruining them while he escapes unscathed. Finally the secret consumes Dorian's thoughts as he realizes he can't turn back; his former self is lost.

This book is interesting because Dorian has the opportunity to see the appearance of his own soul. It poses a serious question about honesty: As your painting becomes uglier, would you want to improve yourself or simply hide the truth better? Dorian's value of aestheticism forces him to choose the latter, as he exalts beauty in every regard of life. Even when he tries to change his ways, it's the thought of reversing the hideous alterations on the painting that motivates him, not any real desire for good.


You can easily see Oscar Wilde's personality and opinions conveyed through the prose and characters in a way that's not obvious with most books. Here I think the art is truly a representation of the writer, even though he states that "to reveal art and conceal the artist is art's main aim". The book's preface is good to keep in mind as the story begins commenting on larger themes of morality. Wilde goes out of his way to assert that art is interpreted solely by the viewer and that artists create to admire, not to prove a point. Thus, art is essentially pointless until you imbue meaning into it. By the same logic, Wilde is suggesting that aestheticism's negative connotation is the reader's own conclusion and not orchestrated by him. This ambiguity is evident in the prose as well, as Wilde's beautiful language and admiring tone contradicts Dorian's unchecked evil and vanity.

Overall I really liked The Picture of Dorian Gray. The writing is eloquent and flows smoothly, making it easy to understand in a way that most classics aren't. Dorian's demise is both disastrous and captivating but definitely isn't straightforward. With plenty of nuance to find, readers can decide for themselves if it's a critique of decadence, a gothic horror story, or anything in between.
Checkout The Picture of Dorian Gray from the Newport Beach Public Library.
Return to full list >>