Six of Crows by Leigh Bardugo
Review by Nadia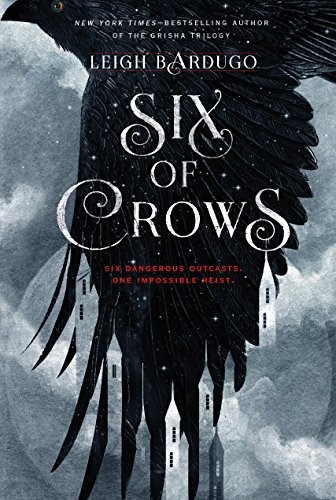 Six of Crows is the first book in the duology of the same name, and the beginning of the second series within the Grishaverse world. We follow six main characters: Kaz Brekker, the mastermind of the heist and important member of the Dregs gang; Inej Ghafa, an acrobat and spy with a sickening past; Jesper Fahey, the gunslinger with a crippling gambling addiction; Nina Zenik, a member of Ravka's Second Army and a Grisha Heartrender, possessing the training and ability to control bodies and blood; Matthias Helvar, a defector of the druskelle (Grisha-killing soldiers) and exile of his homeland Fjerda; and Wylan, a master of demolitions with a mysterious origin.
Kaz is hired by high-paying merchant Jan Van Eck to break the scientist Bo-Yul Bayur out of his prison cell in Fjerda's Ice Court, an impenetrable fortress that has never been breached. Yul Bayur had created a compound known as jurda parem, which, if fed to a Grisha, can heighten powers and strength tenfold, though it comes with a price. Due to the addictive properties of parem, nearly all Grisha who consume it die after a few doses from withdrawal and a weakened body. Van Eck seeks to help the scientist along with the rest of the Merchant Council, who run the city of Ketterdam.
He assembles the group through various means and begins the journey across the sea to Fjerda. Along the way, many plans fail and are foiled by a second group who is also pursuing the scientist, led by rival gang leader Pekka Rollins. As the Crows make their way to the Ice Court, facing danger from all sides, many secrets are revealed, and much chaos ensues. The stakes get higher and higher with each passing action, leaving them to wonder whether it's all even worth it.
Bardugo's writing really draws the reader into this incredibly dense and fascinating world that is easy to understand and come back to. Many dark and heavy themes are faced with quite a lot of nuance and are handled with care.There is also quite a lot of representation in the books. Out of the six main characters: one is disabled, two are confirmed POC, three are confirmed LGBTQ+, one is plus sized, and all suffer from various mental health issues. Though they are aspects of their identity and are shown throughout the books, their characters are NOT made strictly to fit into one stereotype or another and have characterization way beyond their physical attributes. It's very nice to see representation that isn't just an afterthought to help reviews.
I would give this book a 9/10. I would definitely recommend this book and the other books in the Grishaverse to anybody interested in YA fantasy. The worldbuilding is impressive and does not require reading or even prior knowledge of the first trilogy and its events to understand the universe and how it works.
Checkout Six of Crows from the Newport Beach Public Library.
Return to full list >>