Agendas and Minutes
QUICK LINKS

City Council

Boards, Commissions and Committees

The City Council and most of the City's Boards, Commissions and Committees are subject to the Ralph M. Brown Act (Brown Act) - the law which guarantees the public's right to attend and participate in meetings.

Agendas, minutes, staff reports and information relative to the City's Boards, Commissions and Committees (BCC), are managed by various departments. To locate information about a City BCC, please view our complete BCC listing to contact the appropriate staff member.
Helpful Links
Access complete City Council meeting documents, resolutions and ordinances using the City's specialized application, Laserfiche. Please note, users may want to access the help feature built into this application for assistance to make use of its search and viewing capabilities.
Agenda Management Software
City staff uses an agenda management software and implements an electronic process for posting all City
meeting agendas and public notices
.
Here are some quick tips for users:
All items are listed in order of meeting date, including agendas for the City Council, all boards, commissions and committees, and public notices.
To view specific meeting bodies, choose the appropriate legislative body in the dropdown menu next to the "Search" line.
Choose "Agenda" to open the agenda which includes links to the available staff reports and attachments.
Choose "Meeting Details" if you would like to see individual items or to view the City Council packet in it's entirety under Attachments at the top of the page.
"Meeting Location" provides users with the address for the meeting.
If you have any suggestions, ideas or complaints, please email the City Clerk at cityclerk@newportbeachca.gov.
Addressing Youth Homelessness
Addressing Youth Homelessness, a presentation by Project Hope Alliance, will take place in the Friends Room on February 27, 2020 from 6 - 7 p.m.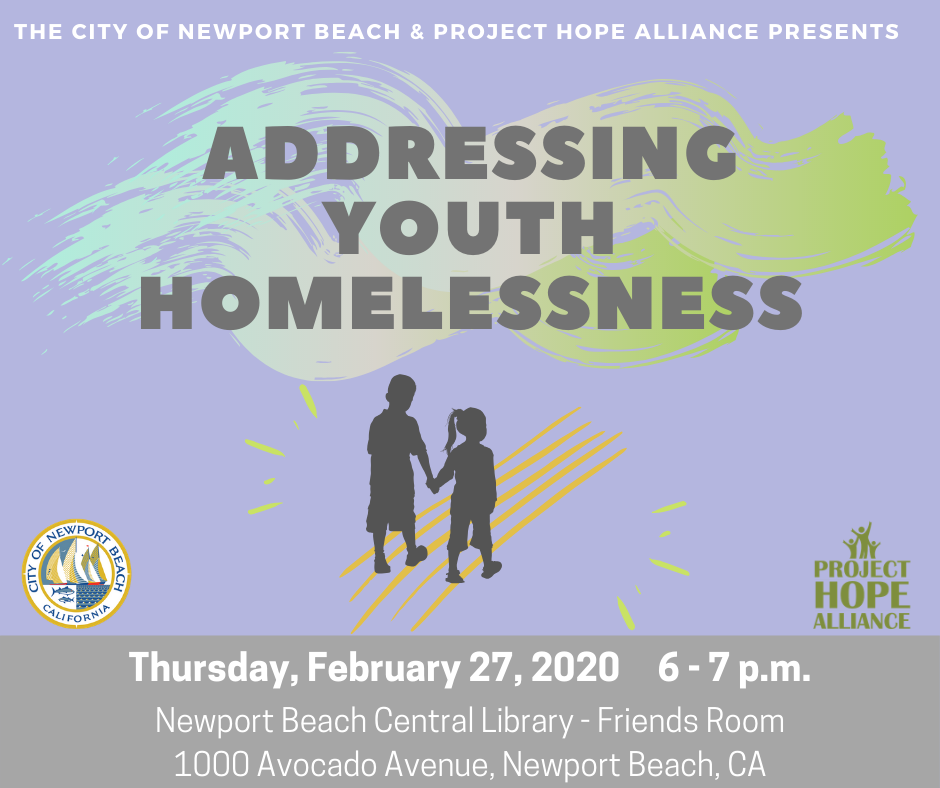 Project Hope Alliance deploys a long-term onsite intervention model for children & youth experiencing homelessness who face obstacles that prevent them from accessing resources, being a kid and achieving educational & life goals.
They work one-on-one with them placing full time case managers on elementary, junior high & high school campuses (post high school case management is not place-based but individual) identifying homeless students, removing their basic needs barriers like food, clothing, transportation; supply case management, regular check-ins, educational support, stable trusted adult mentors and 'home' visits, and connections to needed resources.
Return to full list >>