Acceptance: A Legendary Guidance Counselor Helps Seven Kids Find the Right Colleges--and Find Themselves By David L. Marcus
Reviewed by Hanah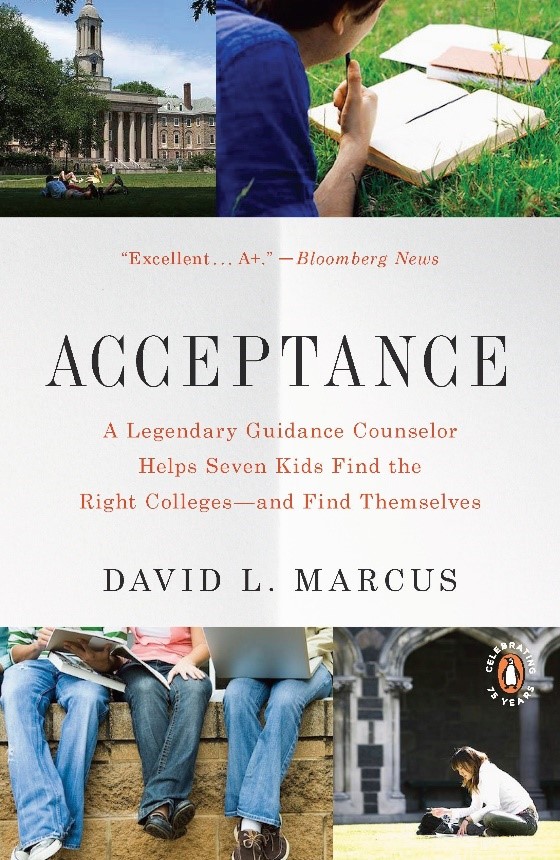 Currently, I am a rising senior who is trying to figure out the best way to explain the essence of who I am to complete strangers in a couple hundred words. For anyone or anyone with family who is in the same position, you already know that this is not an easy task to accomplish. It's a stressful process, and it requires a lot of hard work and time. This book really helped me to get a new perspective on essay writing for college.
The story recounts the daily life of a legendary guidance counselor who worked at Oyster Bay High School. He has since retired, but his legacy lives on. He goes by Smitty, and he tries to make his students look beyond the college process to truly answer the questions of who they are at their core. He also aims to match students to schools that best fit what they're looking for, rather than matching them to prestigious schools so he can boost his reputation. The story recounts his experience with a particular class of students, who all have different strengths and weaknesses, as well as different needs for college.
Reading Acceptance reminded me of an extremely important concept that I tend to forget in my college admissions process, and I'm sure that others forget it as well. This crucial idea is simply that the prestige of any given school isn't the most important thing about the school. It's easy to get caught up in the reputation of a college, but ultimately, a student needs to pick the university that they feel they would do best at. There is no reason to attend a distinguished school if you are going simply because it has a certain reputation. The book explains this idea many times and in many ways: by using "helicopter" parents who are obsessed with a certain type of school as an example, or by showcasing other schools that have incredible opportunities but don't have the reputation prestigious ones do.
Another aspect of this book that was really appealing to me was that it didn't try to teach the reader how to write an essay, it just tried to tell the story of Smitty and a particular class he worked with. I think that if it had tried to explain the best ways to write an essay, the book and its story would have lost a lot of its charm. It certainly has some advice sprinkled here and there when Smitty is advising his students, but it's never directed towards the reader. As a result, you end up loving the characters and their personal stories that are shared: their experiences, acceptances, and rejections feel genuine and important.
I thoroughly enjoyed reading this book, and as such, I would recommend it to others. Acceptance tells a very interesting story, and for me, it was a book where I would sit down and read it and forget everything that was going on around me. I found myself fascinated by the stories each student had to tell, and how Smitty would push them to figure out how to best express that in words. I think for anyone else that is either involved in the admissions process themselves or has children or siblings that is, it is definitely worth a read.
Return to full list >>