Same Kind of Different As Me by Ron Hall
Review by Yoojin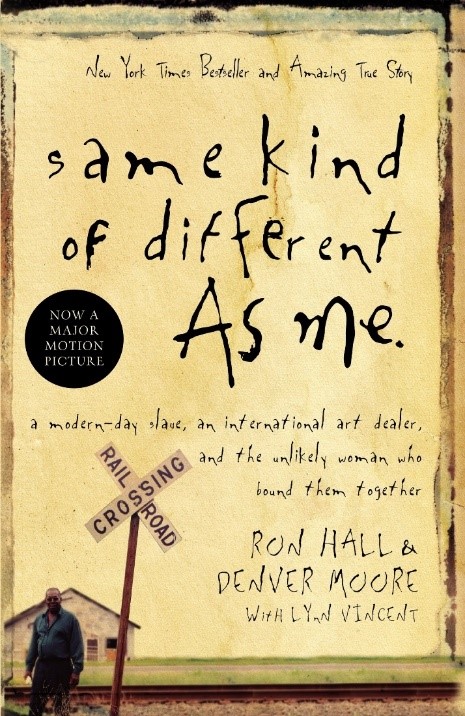 In Same Kind of Different As Me , Ron Hall and Denver Moore allow readers to step into
their lives and feel the pain and love that eventually allowed the two mens' paths to cross. From
a Louisiana plantation to a million dollar mansion in Texas, readers view the 20th century
through the lens of both a black laborer and a white rich businessman, men who at first seem to
have too large of a space between their economic positions in society to ever meet each other.
Denver is a cotton field worker who escaped a white man's plantation and rode a train to Texas,
knowing that the homelessness that awaited him would still be a step higher than his initial
societal position. Alone and broken from the loss of too many loved ones, his heart hardens and
he runs away from both the law and his inner goodness, wisdom, and hope. Ron, on the other
hand, marries his caring, religious college sweetheart, Deborah, and together, they endure
hardship and betrayal that strengthens their love and makes them successful. Through God's
will and Deborah's faith, these two men meet and soon become friends who must rely on each
other for emotional support to endure the tragedies that soon occur.
As they get to know each other, Ron and Denver move on from their stereotypical views
of each others' contrasting social groups: Ron realizes that homeless people are not people he
should "not touch" for fear of catching infections and diseases. His heart changes from acting as
a mere donor of kindness to actually caring about and even learning from his poor, yet wise
friends. Meanwhile, Denver's heart softens as he recognizes that not all "rich white couples" visit
homeless shelters only because they feel guilty about their own successes. Ron and Deborah's
continuous visits to the organization prove that they actually care about the homeless and
desire to befriend them and help them achieve the happiness and hope that they lost. As
readers watch the authors' lives unfold and their perspectives broaden, they also realize that a
simple, but genuine act of kindness can lead to an even greater possibility, the possibility of a
shared relationship that cannot be broken.
Throughout the story, Ron and Deborah are dedicated to sharing their religion and
spreading God's word and love to those surrounding them. However, when Ron must face and
fight an unexpected tragedy alongside his beloved wife, he begins to blame and become angry
at God. Feeling betrayed and heart-broken, Ron's faith gradually starts to disappear. However,
Denver's prayers and visions are what bring Ron back to his religion – the religion and God that
would prove to show reason for such tragedy. As readers witness these authors' lives, the
powerful messages that lie within the events causes readers to endure the forgiveness, tears,
and gratitude that the authors endured.
I would rate this book a 9/10 because although the book was overall very moving and
touching, I was not engaged in the events until I was a few chapters in. The introduction was
slightly boring. However, after the introduction, I began to feel the authors' emotions and learn
about the power of faith, promise, and an unbroken friendship. I would recommend this book to
readers who are interested in the social and economic systems and the stereotypes that can
separate men like Ron and Denver – and what it takes for such men to finally trust each other
for their inner qualities.
Return to full list >>