There's Someone Inside Your House by Stephanie Perkins
Review by Manisha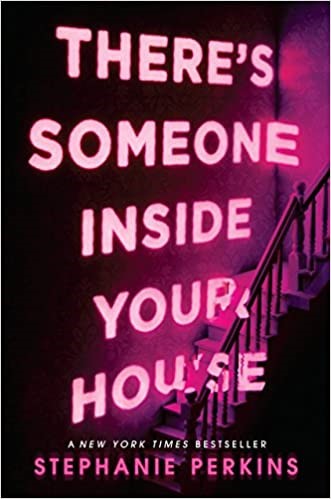 There's Someone Inside Your House is a horror novel by Stephanie Perkins set in the small rural town of Osborne, Nebraska. This is Perkins's first time writing for the horror genre, with her previous books having emphasis on romance and friendship. The novel is currently being adapted into a movie, with its release being scheduled some time in 2020.


Seventeen-year-old Makani Young is a transfer student from Hawaii with her own dark past. After a tragic incident, which is not revealed until later in the book, her divorced parents decide to send her to Osborne to live with her grandmother. As Makani grows accustomed to her new life and learns to make new friends, her classmates get violently murdered in their homes by a mysterious killer. The victims seem to have no apparent connection to each other, and no one has any clue to who the killer could be. The town goes on edge, anxiously awaiting for the killer to strike again, with residents aware that their beloved friend or neighbor could be a monstrous serial killer. At Osborne High, rumors spread that a boy named Ollie, who Makani likes, committed these horrible crimes. As Makani spends more time with Ollie, she knows for certain that he is not a murderer, but has had a rough past, which Makani can relate to. However, convincing the school and her best friends, Alex and Darby, proves to be a difficult task. All the while, the real killer is on the loose, sneaking into the victims houses and mercilessly stabbing them with a knife.


This novel was fast-paced and very addicting, often hard to put down at times. The murderer is revealed around the middle of the book, but the motive is not disclosed until the last chapter, keeping the reader guessing until the very end. The story, told in third person point of view, alternates perspectives between Makani and the victims just before they get murdered. I liked the sequence of events that Perkins used to tell the story, as it effectively generates suspense and dread within the reader. I also appreciated that Makani, the main character, had imperfections and secrets, making her more likeable and realistic. I found the friendship between her, Darby, and Alex to be very sweet. The bittersweet ending ties up loose threads, but also leaves some questions unanswered, leaving it up to the reader's own interpretation. The plot may seem a bit exaggerated and unbelievable at certain parts of the story, especially revolving around Makani's incident in Hawaii, which to me did not seem like it was completely Makani's fault. The descriptions of the murders were very gruesome and disturbing, and I think Perkins could have left some of those details out. Also I would have liked if Perkins developed the supporting characters more, so the reader could better understand and form a connection to them. For these reasons, I would rate this book 7/10 and recommend it to anyone who wants a suspenseful and slightly terrifying read.
Checkout There's Someone Inside Your House from the Newport Beach Public Library.
Return to full list >>