The Walk on by John Feinstein
Review by Hargun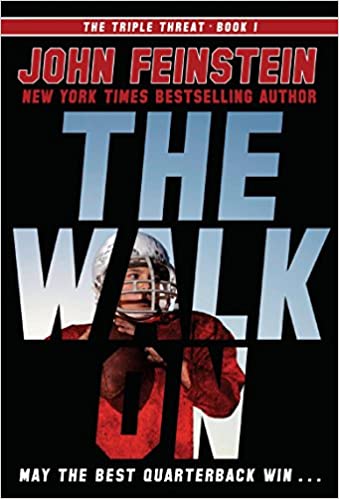 Alex Myers is newly located in a town outside of Philadelphia after his parents' divorce. He will be entering his freshman year in high school, and he has designs on becoming the first-string varsity quarterback. This is a bit of a stretch for both Myers and Feinstein, because freshmen, not even Joe Namath, typically get invited to varsity practices. Moving on, it becomes apparent that Alex has one heck of an arm, even to the starter, who just happens to be the coach's son, a friendly and encouraging kid. Coach Gordon has started his son, Matthew (Matt) Gordon for his whole high school career, so there is a slim chance that Alex would even play at all, let alone start.
Alex quickly becomes friends with another new kid, the amazing freshman wide receiver Jonas, who can already run a 4.5 40-yard dash. Although Jonas is a star, Alex is not only relegated to the bench, but is even a third string QB. He also quickly falls in love with Christine Whitford, a reporter for the school newspaper. The school newspaper just as quickly stirs up trouble, with reporters writing controversial stories that question the decisions of the Coach. That is not good, especially because the editor of the newspaper is also the offensive coordinator.
Alex gets a chance when Matt goes down with an injury, and the second string QB fakes one in order to get Alex into the game. He makes some game winning passes and becomes a hero, but goes back to the bench when Alex returns. The team is very good and they are going far into the playoffs, but other teams start catching on a little to Matt and the Coach is forced to put Alex in at the end of a few games to save them. Alex, however, is no longer convinced that he is the better QB, given Matt's leadership role.
In the end things get complicated and Alex gets accused of taking steroids, something he definitely did not do. It will take some definite detective work to clear his name in time to save the team. Matt Gordon took steroids to increase muscle to ensure making it to a Division 1 school. He gained 15 pounds of muscle, but then came a surprise drug test for the whole team, which he surprisingly passed. He couldn't live with the burden of this and confronted his dad about it, telling him the whole truth. His father threw him out of the office telling him that he passed and will play the state championship game. Matt told Alex this and opted out of the game, sitting in the stands and cheering his team on from there. This gave Alex the limelight and the chance to prove himself in quite possibly the biggest game of his life and career.
This book had a lot of twists and turns and emotional shifts, which made it easy for the reader to resonate with. Personally, playing football, I know how hard it is to start and beat out your friend for the limelight. John Feinstein did a great job at writing this book and creating real life obstacles. However, some things in this book didn't make sense for me. Alex is basically a perfect QB and Jonas a perfect wide receiver, both easily destined for division 1 and quite possibly the NFL. Sure, it's good to write about great athletes and their adventures, but in this story the character's almost superhuman abilities seem kind of strange. Alex's relationship with his dad is also extremely weird. His mom got divorced because his dad simply worked all the time and wouldn't make enough time for his family. There are a number of times their dad comes to spend time with them, but Alex won't even do it because he thinks his dad has shown he isn't a very high priority. The story of the guy simply working all the time doesn't really make sense, and it's place in the story is odd.For this reason I would recommend this book to any athlete and give it a 4/5 star rating.
Return to full list >>