Simon vs. The Homo Sapiens Agenda
Review by Alexandra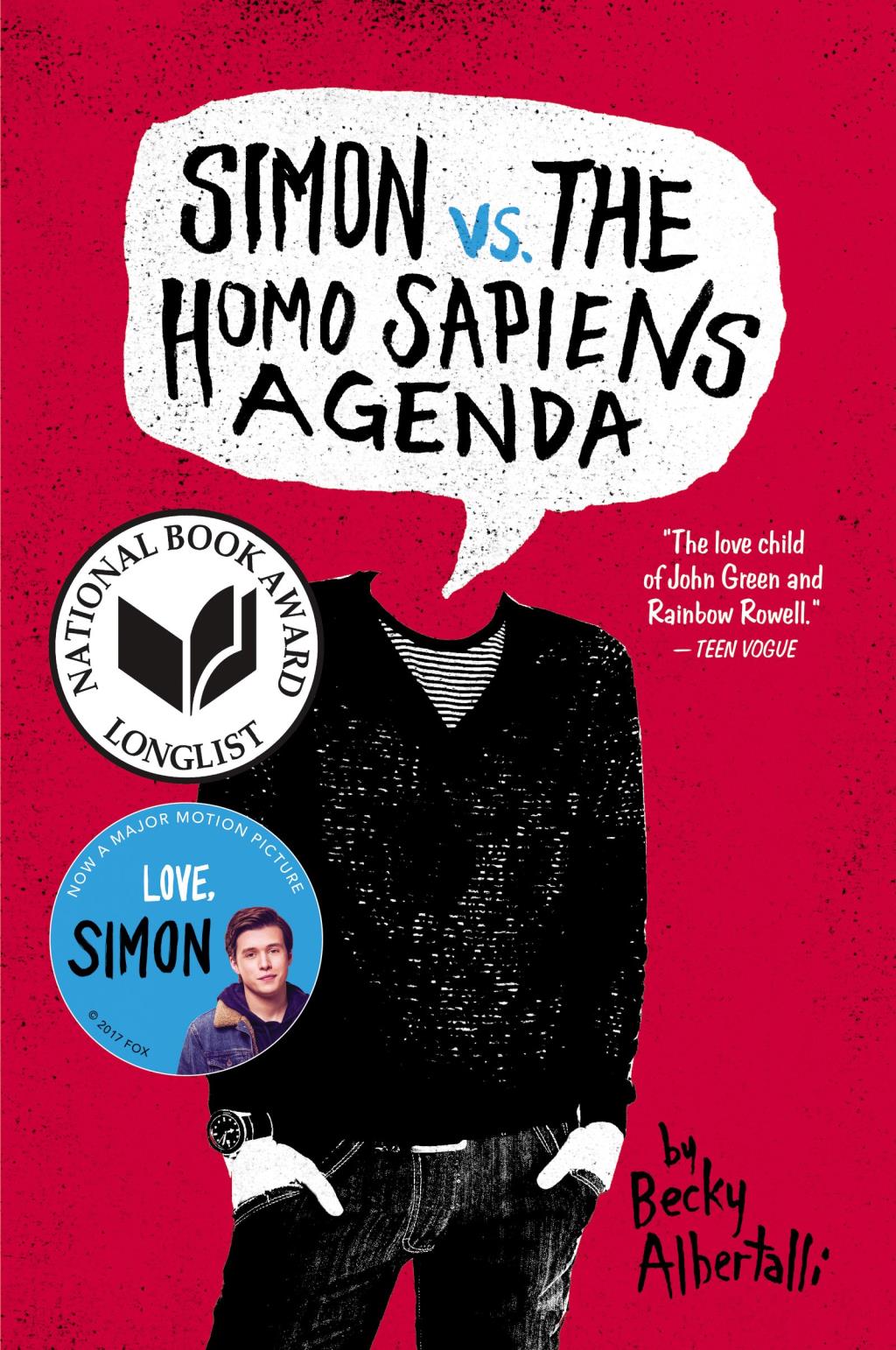 Simon vs. The Homosapiens Agenda by Becky Albertalli is an intriguing read. It
intricately lays out a normal 16 year old, Simon Spier's thoughts. Simon has a secret he's been
suppressing for a while now. He's gay. There is a light through all this chaos. Another wishful
boy with a secret identity communicates through perfect grammar and witty jokes to Simon.
Both are fascinated by each other's presence or lack thereof. The only obstacle is they are
hopelessly in love but they don't want to reveal their identities. It would take a leap of faith to
start up the idea of being gay and it's hard to prepare for something so delicate. Therefore they
fall further and further into the abyss of love for eachother, maybe not knowing a face, but
knowing an identity. Simon is impulsive which evidently causes the plot to escalate within the
next few chapters. As Simon had sent an email he left he left his account open. No one else
knew until Martin, the class clown approached him with an ultimatum. He will share an email on
a school-wide Tumblr account about Blue and "Jaques" endless love for eachother or Spier
helps Martin cozy up to one of Simon's dearest friends, Abby.
In this story we see more relating to what an angsty teenager with high anxiety goes
through. At any given moment Martin could reveal Simon's secret, and he does. Simon's spirit is
brutally murdered putting immense pressure on him to tell his loved one's if the rumor is true.
After the new gossip flourished Simon was bullied phycologically at his school. Blue ceased all
communication because like an elephant approaching a mouse is, and excuse my french,
scared out of his shit because he doesn't know how to bring this new part of his personality into
his own life let alone sharing it with someone else. Simon continues to lie and persuade
throughout the story with good intentions not only to Blue but to his bestfriends Nick, Leah, and
Abby. The author, Becky Albertalli raps up this beautifully written pandemonium with an
astonishing plot twist. While Simon has dedicated this section of his life to Blue, the author is
careful to include even the most minor details of characters associated with Spier continuing till
the very end and wrapping up their stories along with Simon's letting out a colossal side of relief.
This book is a very high 8 reaching for a 9/10. I could not put this book down. It's full of
heavy topics such as identity and sexuality but is carried along with the miniscule in everyday
life such as being a part of a musical. Simon vs. The Homo Sapiens Agenda couldn't express to
me enough that these situations are in everyday life. I loved the overlapping plot twists that left
my head spinning. In my opinion Spier overcame conflicts in an unconventional and unusual
fashion, leading me to put myself in his shoes and catching sight of what I would perceive as the
right decision. It's funny how different thought processes could lead both to valid arguments but
go into polar opposite directions as an outcome.
Check out Simon vs. The Homo Sapiens Agenda from the Newport Beach Public Library.
Return to full list >>