The Outsiders by S.E. Hinton
Review by Faisal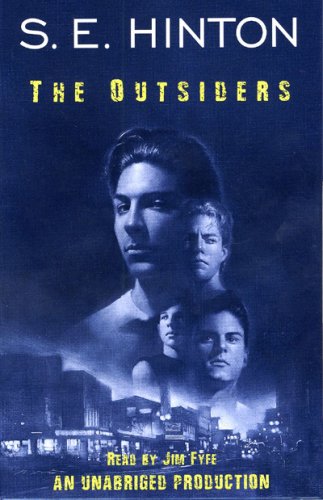 The novel written by S.E. Hinton is young adult fiction, one of the main themes in the books is staying gold, means to be true to yourself, stay innocent, uncorrupted. One line in the poem reads, "Nothing Gold can stay," meaning that all good things must come to an end. It is used in the outsider's book. Ponyboy doesn't stay gold. His grades suffer, he loses memory and appetite, and he continues fighting with Darry, he is also depressed. This took place in the 60s where ponyboy lives in a town with the town being seperated into 2 dominant groups (socs, greasers). The greasers were mainly poor and a lot of the members lived in poverty. The socs were high class and lived on the west side. The greasers and socs always faced internal conflicts within themselves. Ponyboy is the main character *SPOILER ALERT*Ponyboy has witnessed two of the most important people in his life get killed.
Ponyboy always finds a way to grow, he always changes his mindsets. All of these events that occur in his life are examples of ways he grows throughout the novel. S.E Hinton portraits ponyboys' growth so well throughout. Ponyboy goes through so many things during his life. He gains a lot of knowledge from his life and a lot of knowledge from unpleasant experiences. If you are willing to gain knowledge for the real part of your life, this is the book for you. This book portrays growth by many characters and really teaches you real life situations and shows how to get through tragedy. Ponyboy is a prime example of growth within a human being. Ponyboy is just a teenager and this book would be good for a teenager going through hardships to show that you can grow and get through life.
This story is all about backgrounds. Every character in this story has a different backstory and all of them come from an individual situation in a house with each person's family. Ponyboy is part of the greasers but not all of his friends are greasers, he has some friends that are part of the socs due to having different thinking parents. Ponyboy doesn't stop that from getting in his way. He adores every friendship. His Friends all have different point of views sp they can disagree on what is wrong versus what is right and wrong
In conclusion, this would be a great book for people from the age of 13 and up. Shows how Ponyboy grows as a teen and as a person in general. He has faced a lot of things that kids his age won't have to deal with or think about, but this is what is so great about the book. It shows how you can get through anything and always be loyal to your family and treat your real friends like family. S.E Hinton wrote this story perfectly and is definitely a must read for people over the age of 13.
Checkout The Outsiders from the Newport Beach Public Library.
Return to full list >>