Spy School by Stuart Gibbs
Reviewed by: Matt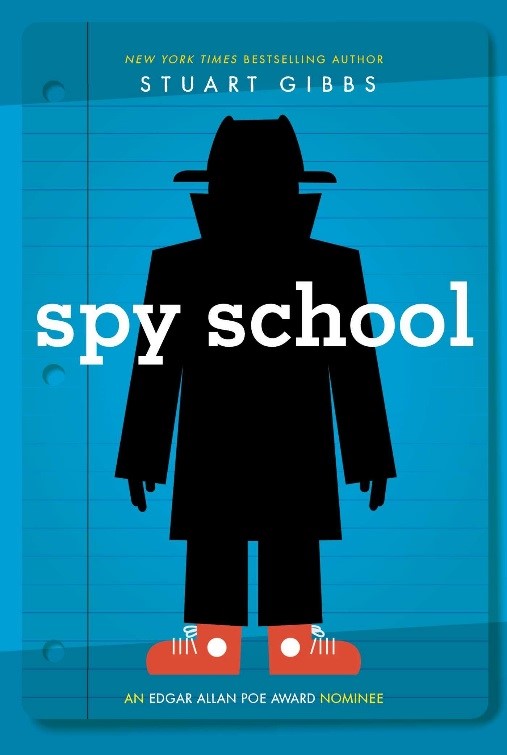 The book that I am reviewing is called Spy School by Stuart Gibbs. In this book we see Ben Ripley, a middle school nerd, get his whole life turned around by being recruited by the Central Intelligence Agency, or the CIA. Ben then battles the evil threat of SPYDER, which is an evil organization plotting to conquer and destroy the entire world. But, to keep Ben out of trouble, Erica Hale, an excellent spy and friend, is always there to save Ben.
The book starts off as Ben Ripley gets recruited to work for the CIA. They found him through his online test scores. Ben agrees to join the CIA, but then realizes it is not what he thought it would be like. He is transported to the CIA training school, which is in a secret location. Ben attempts to train as a CIA agent and become a spy, but he realizes something is wrong. When he sneaks around the CIA offices with Erica Hale, they then find out that there is a mole from the evil organization SPYDER that has infiltrated the training school in order to spy on Ben and the CIA. They are interested in Ben because of his online scores just like the CIA. It turns out, the mole is not what Ben suspected. The mole is a student at the CIA school, but really works for SPYDER. Ben tries to figure out the student's identity. Ben finds out who the mole is - it is Murray Hill. Ben then attempts to stop Murray from finding out the CIA's plans, but Murray gets away. Ben needs the help of Erica Hale to stop the mole he now knows is his fellow student, Murray Hill. Erica and Ben work together to find Murray and stop his plans. They have saved the CIA as well as their country.
Overall, the book was really good. It had a lot of action and suspense, which is very appealing to me. For example, there is a great scene where Ben and Erica are on the paintball field and are dodging bullets from both Murray's real gun while also dodging paintballs. Another terrific action scene is when Ben is first introduced to the CIA and there is a "fake intruder alert" in order to test Ben. Ben is racing all over the school while fighting enemies (he does not know are fake) and figure out who the intruder is at the same. This book also has interesting characters. Murray, for example, is not your typical CIA school student. He is out of shape and always sleeping. It is surprising that he ends up being the bad guy.
I would give this book a rating of 9 out of 10, because it had a lot of action and had a very interesting plot with many moving parts. I would recommend this book to anyone who enjoys action in grade levels 6th through 7th, as well as anyone who enjoys spy stories.
Return to full list >>